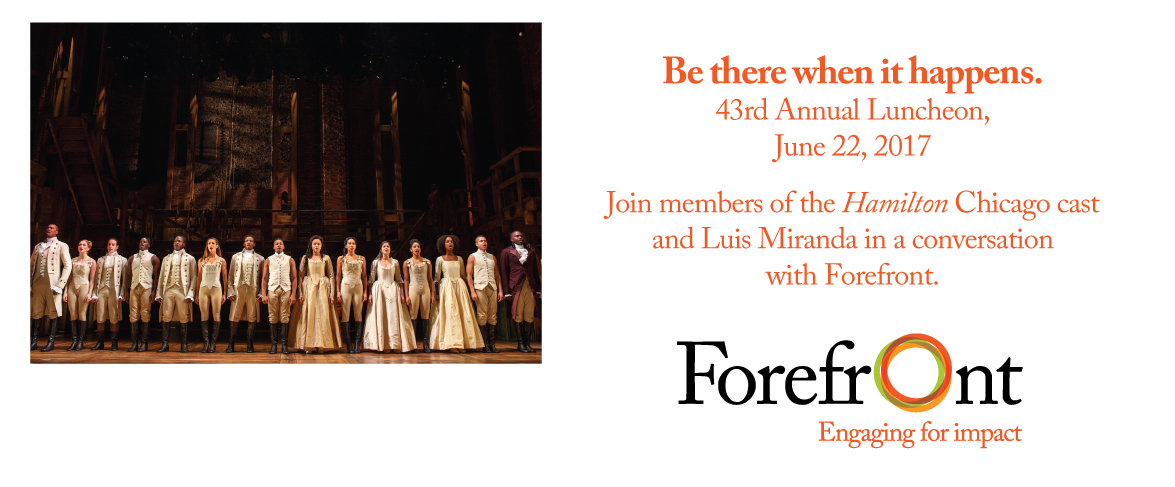 Forefront will host its 43rd Annual Luncheon on Thursday, June 22, 2017 at the Hilton Chicago.
We are thrilled to announce that this year's luncheon will feature Luis A. Miranda and cast members of the Chicago production of Hamilton. Mr. Miranda is a champion of the Hamilton Education Program, chairperson of The Broadway League's Latino audience development program, and an accomplished political activist. He will speak about his nearly four decades of experience as a leader in the public and private sectors. During this rare appearance, he will also speak about how the Hamilton Education program has allowed the opportunity for 20,000 Chicago Public School students to experience the hit musical.
Cast members of the Chicago Hamilton production will join us to discuss how they came to be a part of the groundbreaking show and share personal stories about how being a part of this production extends their commitment to a world that celebrates equity. Angelique Power, co-chair of the event and President of the Field Foundation of Illinois, will moderate this lively discussion on diversity, social justice, and equity.
The program will conclude with the very rare opportunity to experience performances by students from the Hamilton Education program.
The Luncheon is open to all, regardless of Forefront Membership. Forefront Members will receive exclusive access to a pre-sale on Wed., May 3.  (If your organization is not already a Member of Forefront, click here to join.) 
If your organization is not already a Member of Forefront, click here to join. If your organization is a Member of Forefront, please make sure that you're able to login before the pre-sale goes live. If you're having trouble logging in, click here. 
Open registration begins Wed., May 10.
Forefront is grateful to Luncheon Co-Chairs: Greg Cameron, Executive Director of The Joffrey Ballet, and Angelique Power, President of the Field Foundation of Illinois.
We invite you to Sponsor the Annual Luncheon and highlight your dedication to building a vibrant social impact sector in Illinois. Email Luke Wilcox, Development Coordinator, at lwilcox@myforefront.org for more information.