Nonprofits Advised to Prepare for New State Budget Realities
April 25, 2014
The budget forecast for the State of Illinois carries with it the promise of painful decisions for nonprofit organizations, though how much pain will be felt will be determined by revenue and spending decisions that lie ahead. Given these difficulties, nonprofit organizations need to take immediate actions that can help them be prepared for coming changes and preserve important programs and functions.
That was the thesis presented to participants of Donors Forum's 2014 State Budget Forum in April. The session featured a keynote address by Rich Miller, publisher of Capitol Fax, and a panel discussion moderated by Grace Hou, President of Woods Fund of Chicago. Panelists were Mr. Miller, State Representative Will Davis, and Celena Roldan-Moreno, Executive Director of Erie Neighborhood House.
In introducing the session, Valerie S. Lies, President and CEO of Donors Forum, noted that the state budget process can seem mysterious to outside observers. "It feels like we are watching a play without a program book — we're not really sure who the players are, what the plot is. We hope to give you that, and some actions you can take to get involved," she said.
View photos from the program on Flickr here.
View photos from the program on Facebook here.
Mr. Miller's keynote address painted a challenging picture for nonprofit organizations trying to work with the state. While late payments have been reduced, they are still substantial, and the budget is likely to stay level or shrink while demands for services continue to increase, he said. He also mentioned that probes by the attorney general into various grants and nonprofits are leading government officials to look at all state grants, which could lead to future restrictions or reductions.
Mr. Miller said that from a fiscal point of view, a proposed bipartisan budget is solid in that it does not rely in shifting funds around or new borrowing. The result of that, though, is less money available for appropriations. He noted that the state is making progress on debt, and eventually when some back debt is paid off there will be new revenue on the table, but by that point the accumulated demand for spending will likely be so great that it will quickly vanish. Changing the overall state budget situation is not easy, Mr. Miller said, because it requires a significant change to the state's economy. Reducing the high unemployment rate in the state would boost revenues, but generating new jobs is a challenge.
One of the complications of the current budget process is the uncertainty of whether the tax increase passed in 2011 will be extended. To address that uncertainty, the governor has created two budgets, one with revenue from the tax increase, one without. Ms. Hou noted that it is important to realize that at present, the extension of the tax increase has not been passed, and so any budgets that include it cannot be relied upon until the increase is passed. Rep. Davis added that he hoped the budget proposal without the tax increase made it clear how much pain would be felt without the additional revenue and that would lead to action.
Rep. Davis and Mr. Miller both said that the state's Budgeting for Results process will play an important role in how funds are allocated in coming years. To prepare for the analysis legislators will be requiring, nonprofit organizations need to show the impact they are having with state dollars. Rep. Davis noted that small organizations in particular may need help to develop the capacity to demonstrate their impact. Ms. Roldan-Moreno emphasized the importance of partnerships, not only to develop and measure the impact of organizational programs, but also to help legislators understand the impact organizations have and what their activities mean to their district.
B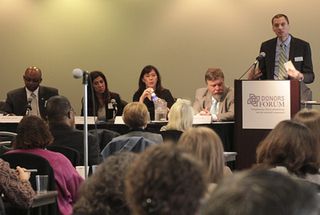 uilding relationships with legislators was highlighted by all of the presenters. Mr. Miller said that building successful relationships with public officials is not a matter of funding. "You have to have credibility and be true to your word, but you don't necessarily need a whole lot of money," he said. Rep. Davis added that knowing something about a legislator's district as well as their positions on particular issue will help build trust while making sure conversations are substantive and productive. He also said that meeting legislators outside of the bubble of Springfield can help facilitate more open conversations.
Ms. Roldan-Moreno agreed that working with legislators was important, saying "There is no way you can be a nonprofit in Illinois and not be an advocate." Finding ways to increase revenue is critical, she said, as many organizations have already cut all they can, and the increased need for services means they cannot cut anymore. She said federal dollars may be options for some organizations, but the substantial application and reporting requirements that come with that source makes it difficult for smaller organizations to obtain them.
In concluding the session, Doug Schenkelberg Vice President of Public Policy at Donors Forum (pictured, at the podium) focused on the importance of the nonprofit sector working together and Donors Forum's role in helping the sector unite around critical issues. "We care about the entire sector, and we want to bring you all together to speak with one voice about how to make the sector stronger," he said.
— Jason Hardy, Member Services Support