Announcing Forefront's 2017-2018 Professional Development Schedule
Forefront is excited to announce a new slate of skill-building workshops for nonprofits for 2017-2018. Watch your mailbox for a copy of our new catalog. This booklet is your guide to all of Forefront's professional development workshops throughout the upcoming year. We're thrilled this year to be adding programming in communities throughout Central Illinois, including: Springfield, Champaign, Quincy, Effingham, Galesburg and Decatur!
You can also browse our workshops online!
Forefront offers affordable, accessible, comprehensive trainings that move us toward our vision: social impact organizations working at their fullest capacities and creating positive change in communities throughout Illinois.
Forefront has developed classes and educational workshops that prepare you and your team for the joys and challenges of doing good. And what you learn from our expert faculty (and your peers!) will help you do it better.
Forefront programs strive to reflect the following principles, which we believe are foundational to the success of the social impact sector:
» Leadership is an activity, not a position
» Cultural responsiveness and inclusivity contribute to higher impact
» Healthy partnerships contribute to increased sustainability
» Budgeting, fundraising, and funding practices must reflect the full cost of doing business
We recently redesigned our professional development architecture. Our new Cornerstone workshops are the foundation of a sustainable, well managed nonprofit. A working theory of change is the key to all of the skills taught in Cornerstones, so we strongly encourage participants to bring a current theory of change to all Cornerstones workshops. Don't have a one? Join one of our upcoming Theory of Change sessions. 
From there, you'll find Cornerstone workshops that best fit your staffs' development needs. Cornerstone workshops will build your capacity to advocate, communicate, budget, evaluate, fundraise, engage and serve. We've also listed other courses you might be interested in next as well as any prerequisites to taking advanced courses. Have a question about what course might be right for you? Contact our staff anytime. 
Capacity Assessments
It can be hard to know where to start when it comes to building organizational capacity. Let us help! Forefront offers exclusive access to the Impact Capacity Assessment Tool (iCAT). For more information about using this tool for your organization or your grantees, contact Lisa May Simpson, Director of Education, at lsimpson@myforefront.org.
Contracted Trainings
In addition to our classes listed below, Forefront offers contracted trainings for specific organizations and/ or cohorts that are specifically developed and customized to meet their unique needs. To learn more about options and costs for your organization or your grantees, contact Lisa May Simpson, Director of Education, at lsimpson@myforefront.org.
Registration
Registration for all Forefront programs takes place on our website on the Our Programs tab. Search for workshops by topic or location.
Workshop Locations
Workshops take place across Illinois. Forefront has offices in both Chicago and Springfield. We also offer sessions at partner locations including Champaign, Decatur, Effingham, Galesburg, and Quincy. Can't get out of the office? Many workshops are offered as webinars!
Scholarships
Grantmakers: Interested in providing your grantees with the opportunity to grow and connect in the sector? Consider providing scholarships for your grantees to participate in Forefront workshops or training series. Contact Lisa May Simpson, Director of Education, at lsimpson@myforefront.org.
CFRE Credit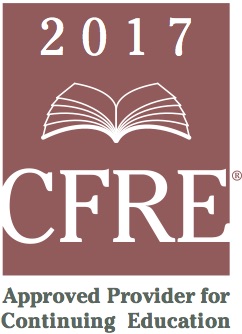 The CFRE Professional Certification Program offers fundraising professionals with 5 or more years of experience an opportunity to earn recognition for their experience and professionalism.
The designation "Certified Fund Raising Executive" (CFRE) is a mark of distinction, providing heightened professional recognition plus greater career options and earning potential for fundraising professionals. Many of our workshops are CFRE credit eligible! 
Membership
Forefront Members receive significant discounts on our professional development workshops. Interested in getting the discount but aren't yet a Member? Visit us at MyForefront.org and click "Join" to become part of the Forefront community!
Highlights
Below is a sample of some of the workshops we're offering this year:
Rules of the Game for 501 (c)(3)s: Elections (Webinar) - Advocacy -  Elections are important opportunities to educate and engage voters and the community at large. Although 501(c)(3) organizations cannot support or oppose candidates for public office, there are many activities in which they can participate during election years. This training covers the federal tax law rules regarding electoral activities for 501(c)(3)s, including how to advocate for your issues during election years, educate the public through candidate forums and questionnaires, engage safely in voter registration and get-out-the-vote efforts, and safely support or oppose ballot measures.
Building Your Best Board: Performance and Culture (Chicago) - Board Engagement -  In this highly participatory workshop, participants will gain an understanding of the elements of a high-performance board of directors, identify the key elements in their own boards that will make a difference in the board's culture and performance, and draft an action plan that will help create a stronger board culture to deliver greater impact on their organizational missions.
Strategic Communications (Champaign) - Communications - Participants will look at a variety of messages to identify what works and what doesn't, and discuss persuasive strategies to help them gain and maintain support from the community. Participants will also work on identifying audiences to be able to tailor messages to make the most impact. 
Gain Success with Corporate Donors (Chicago) - Fundraising - Acquiring corporate donors can be an elusive process, and yet they are an important part of the funding mix. Corporate donors can fund initiatives that engage new audiences or programs that don't fit traditional philanthropies. Learn how to develop compelling pitches, get creative about how corporations can support your mission, and identify strategies that grow partnerships rather than transactions.
Volunteer Management 101 (Effingham) - Volunteer Management - The first part of a two-part series, participants will explore onboarding, engaging, evaluating, and celebrating volunteers.
Fundraising in Communities of Color (Chicago) - Fundraising -  Communities of color remain a largely untapped resource when it comes to fundraising. However, as fundraisers begin to turn their development efforts towards more diverse populations, there remains the additional work of understanding the giving patterns represented within communities of color and how those patterns translate into actual dollars. During this interactive workshop, we'll debunk the myth that people of color are not philanthropic, gain greater insight into the dos and don'ts of engaging with diverse communities, and discuss ways to develop inclusive and sustainable organizations through the cultivation of a more diverse donor base.
Find these and other accessible, affordable workshops to help you grow and connect as a social impact professional. Browse our catalog here.