On October 18 + 19, 2017, Forefront held its inaugural conference in Springfield-- our first since we rebranded as an organization three years ago. Bridging The Divide: Building Community in Illinois was an enlightening experience for our attendees, or "social impact warriors," as our President + CEO referred to us in his opening remarks. Participants included both nonprofit professionals and grantmakers from all across Illinois. The two days were filled with remarks from national thought-leaders, inspiring stories, cutting-edge ideas, robust content, and valuable insights. From the opening keynote to the evening reception to the breakout sessions to the closing plenary, attendees were inspired, energized, and fired up.
Jan Masaoka, CEO of the California Association of Nonprofits kicked off the conference with the opening keynote. Jan suggested that in our strategic planning processes, instead of asking, "What do we want to accomplish?" we should be considering, "Who is our community" and "What do they need us to be right now."  She urged our audience of funders and nonprofits to "preserve the whole ecosystem" not just our own organizations, and reminded us that the best collaborations are the unlikely partners. The best collaborations don't just share dollars, but they bring investment into the sector. "We need to think more boldly about the role nonprofits play in economic life, especially in rural areas," Jan proposed.
To further explore the theme of our conference, we brought up a panel of local leaders to share their insights into how nonprofits can bridge the divides between urban and rural, right and left, while still fulfilling their missions. Panelists included Mia Woods, Executive Director, Big Brothers Big Sisters of the Illinois Capital Region, Josh Gibb, Executive Director of the Galesburg Community Foundation, Evette Cardona, Vice President of Programs, Polk Bros. Foundation, Jan Masaoka, our keynote, and CEO of California Association of Nonprofits, and Eric Weinheimer, President + CEO, Forefront. Eric noted that while this is not a new divide, it's at the height of awareness right now. "We need to remind folks that we're a community." Josh concurred, "We should be engaging our community in a way that everyone feels included. We forget how similar we are." Mia proposed that we should be thinking about "meeting halfway on the bridge," rather than bringing them over to the "other side." We should be "merging the needs" and considering who we are to our community. Rather than bring the loudest voices together, the best thing nonprofits can do is give voice to voiceless.  Finally, Eric challenged us to use the conference to unite, find common ground, build relationships, be open to new ideas, and to scale our impact.
In the second part of the day, Benjamin Evans, III from BMe Network taught us about the negative consequences of deficit framing. "What if most of the stories and narratives you know about black men in America are wrong? And what if these narratives influence the way your nonprofit or foundation speaks to and about race?" Benjamin taught us how to create more effective and positive narratives. We talked about what terms like "at-risk" and "low-income" do to the community we're serving. We discussed who the hero of your nonprofit's story should be (HINT: not you), and examined what might happen if we re-frame an organizations' mission statement in an asset-based frame.
We closed the day with a networking reception at the Abraham Lincoln Presidential Library and Museum. Guests had exclusive access to the Chicago Cubs vs. St. Louis Cardinals exhibit and had the chance to listen to musicians from the Sangamon Valley Youth Symphony.
Clark McCain, Program Officer at The Coleman Foundation kicked off Day 2 of Bridging the Divide with some intriguing new data on individual giving. He also reminded participants about Forefront's #ILGive initiative – which is meant to disrupt the giving economy here in Illinois.
Mark Ishaug, CEO of Thresholds, inspired us with a clarion call to action around leading with love. Now, more than ever, we need an antidote to the discourse that diminishes. We need to lead our organizations with compassion, respect, and kindness - intentionally expressing concern and care for the well-being of both our staff and clients. Mark reminded us that love is about being comfortable with conflict and difficult conversations.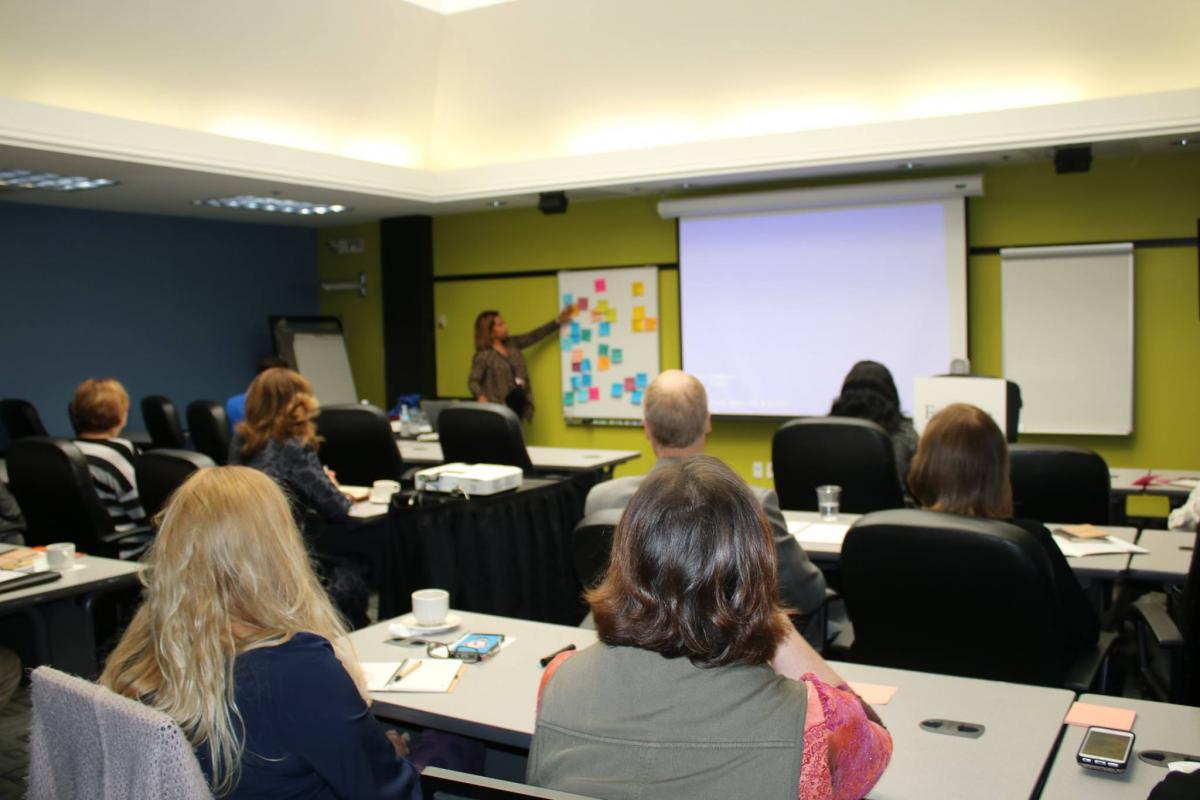 For the rest of the day, attendees broke out into 15 different capacity-building sessions on topics that included digital fundraising, finance, advocacy, board engagement and collective action. Find the conference presentation decks and resources here. 
We gathered over lunch with Beth Kanter, a nationally recognized innovator in networks, learning, and social media, and author of the book The Happy, Healthy Nonprofit. Beth led us in a discussion about something that too often gets neglected for those that work in our sector: self-care. "To be an effective change maker," Beth says, "you need to take care of yourself. But often the culture of working in a nonprofit is based on scarcity and that becomes difficult." We all know that we need to take a lunch break, stop checking email at night, and take a vacation, but how do we *actually* do it when there's so much work to be done? Beth shared incredible insights on how to avoid burnout and resources to create happier, healthier nonprofit workplaces. She built a microsite especially for Forefront's conference attendees. It includes a self-care checklist, a self-care plan template, and some great articles about how we, in the social impact sector, can build a culture of wellbeing in our workplaces.
Forefront thanks our conference sponsors and Lumpkin Family Foundation for underwriting the conference. 
Save the date! Forefront will host its next conference, along with North Park University's Axelson Center for Nonprofit Management, on Thursday, October 4, 2018 in Chicago.