Wednesday, January 22, 2014
With decisions in our capitols having a direct impact on philanthropic and nonprofit missions and operations, it is important to have a voice with decision makers. No matter the skill level or knowledge, effective advocacy relies on collective voices being raised in support of philanthropy's value and impact. We invite any foundation member to join Donors Forum staff on our 2014 Foundations on the Hill (March 4-6, 2013) trip to share with congressional staff the value and impact of philanthropy to their districts. With a more favorable policy environment, philanthropic missions will have a deeper impact in our communities.
Meeting face to face with Hill staffers provides an extra level of dedication and commitment to that cause. By attending Foundations on the Hill, foundation members can develop or strengthen relationships with members of Congress and share their views on the difference foundations and their grantees are having on their constituents. By sharing your research, grantee stories, and outcomes foundation members have an opportunity to demonstrate impact and tell the story of philanthropy/the social sector. Other reasons to join FOTH 14:
To inform and educate Congress about philanthropy and the issues affecting foundations
To encourage Congress to view foundations as resources on key public policy issues that matter to your foundation
If you have never been a part of our FOTH delegation, our policy team makes it easy for members to participate. Our policy team will provide philanthropic members that attend FOTH 2014 the following:
Materials with data specific to their congressional district on philanthropy's impact;
Pre-scheduled meetings with Congressional staff;
Preparation call to review talking points, issues, and logistics; and
Delegation team dinner with staff and colleagues.
What is Foundations on the Hill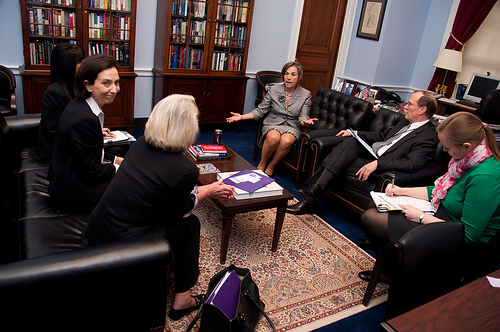 FOTH also provides an opportunity to network and share strategies from peers from across the country. Since 2003, Forum of Regional Associations of Grantmakers, in partnership with the Council on Foundations, has sponsored Foundations on the Hill. During Foundations on the Hill, regional associations, working with foundation trustees, executives and staff, schedule meetings on Capitol Hill to personally discuss their work with members of Congress. This year Foundations on the Hill will be part of "Philanthropy Week in Washington," which is a new theme week for a week of activities, hosted by the Council on Foundations.
Contact Caroline Staerk, Manager, Public Policy (cstaerk@donorsforum.org) for more information. The registration fee for Donors Forum members attending Foundations on the Hill is $100.
Visit the FOTH registration page to register. This event is closed.
~ Delia Coleman, Director, Public Policy and Strategic Communications, Donors Forum