Tuesday, February 16, 2016
"Demanding more of board members is what makes for better board members," says Ron Grais, a 35-year veteran of Thresholds' Board.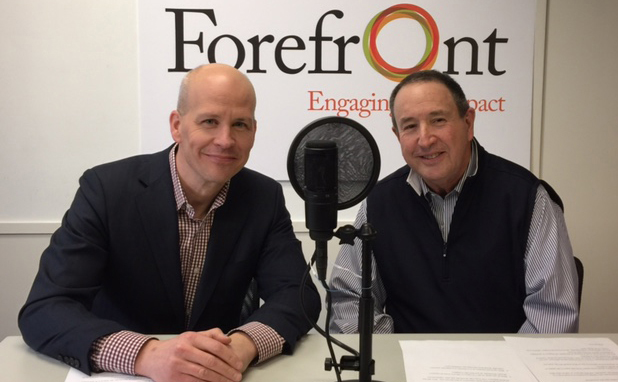 In this episode of Forefront Radio, our President + CEO, Eric Weinheimer (left) has a conversation with Ron Grais, Pro Bono Counsel at Sugar, Felsenthal, Grais & Hammer. Ron has served on the board of directors of Thresholds, the largest U.S. psychiatric rehabilitation agency, for almost 35 years.
They talk about Ron's chance introduction to nonprofits and board service, effective board leadership and governance, and how to be a better social change agent.
How to Listen to Forefront Radio
>> Click here to stream this episode on Soundcloud.
>> Click here on your mobile device to listen to Forefront Radio on iTunes. You can subscribe and have the latest episode download automatically to your device.
We welcome your feedback on this podcast and Forefront Radio. If you have an idea for an upcoming podcast or would like to get involved, email me at kmurphy@myforefront.org.
Thanks for listening!
-- Kathleen Murphy, Communications