Forefront and Illinois Nonprofits to Rally for 3rd Annual Statewide Giving Day, #ILGive, on #GivingTuesday
As part of our ongoing work around increasing individual giving in Illinois, Forefront is thrilled to announce the opening of our 3rd annual #ILGive campaign and our partnership with GiveGab. 
#ILGive is a 24-hour giving event will begin at midnight and end at 11:59 PM on #GivingTuesday, November 29th, 2016.   
The Back Story
#ILGive is a day dedicated to bringing nonprofits, businesses, grantmakers, and all Illinoisans together to celebrate generosity and to give.  It's a day to unite the Illinois nonprofit community, encourage the use of new tools and strategies for digital fundraising, as well as raise visibility and awareness about philanthropy and the impact it has in communities.
Both the Giving Tuesday + ILGive movements have grown exponentially over the years. Last year, the 2015 #ILGive campaign helped 600 Illinois charitable organizations raise $5.7 million from 6,000 individual donors on 12/1/15. We expect this year's campaign to be even bigger!
What's new?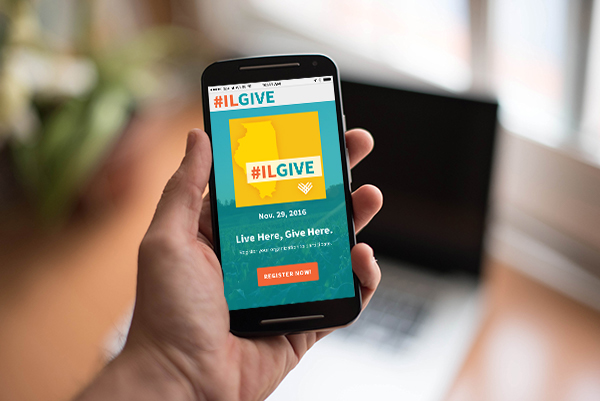 Forefront has partnered with GiveGab this year to make it easier for nonprofits to participate – and donors to GIVE.
GiveGab is waiving its fees on Nov 29 as a way to give back to Illinois nonprofits!
The new #ILGive website has great features like team fundraising pages, monthly donation opt-in, donor data reporting and more. (See the full list of features here).
With its mobile-friendly design and intuitive UX, GiveGab offers a fast, reliable, secure, and beautiful experience for you and your donors.
On #ILGIve we'll be able to watch, in real-time, how much money donors are contributing to Illinois nonprofits!
How to Join the Campaign
Participating in #ILGive is a great opportunity to capitalize on the energy of GivingTuesday, use the momentum of #ILGive to amplify your year-end giving efforts, and acquire new donors and supporters who are looking to support nonprofits on November 29. To register, visit www.ilgive.com and click Register Now! The registration process is simple (You can watch a demo here). Nonprofits must register by November 18.
When you register for #ILGive:
Your organization will be listed on the participating nonprofits page on ILGive.com.
You'll receive weekly emails full of campaign strategies, content and more to help prepare and implement your #ILGive campaign.
Get access to a great Nonprofit Toolkit to help you prepare and promote your campaign.
You'll get notified about our upcoming webinars with topics ranging from Fundraising in Communities of Color to Great Storytelling and Marketing for #ILGive.
You'll get free support from the #ILGive team!

Foundations can participate too! 
Corporate funders and foundations are an integral part of #ILGive! Foundations and Funders Support #ILGive:
To assist grantees in gaining more support – leveraging opportunities to partner with grantees.
To collaborate with other funders and partners across sectors to assist the community.
To offer their grantees matching grants.
Other resources:
- Read a recent report on how giving days benefit Community Foundations.
- Watch our #ILGive for Funders webinar. 
Find the #ILGive FAQ here.  If you have additional questions, contact Delia Coleman, Vice President, Policy + Strategy, Forefront at dcoleman@myforefront.org or 312-327-8946.
~Kathleen Murphy
Director, Communications, Forefront