Forefront's Member Network, College and Career Access, Persistence and Success (CCAPS) has launched the Partnership for College Completion, a new organization with the mission to catalyze and champion policies, systems, and practices that ensure all students — particularly low-income, first-generation students — graduate from college and achieve their career aspirations. In the following blog post, founding board chair, Greg Darnieder, reflects on his committment to education and how the Partnership for College Completion is leading the way to improve postsecondary completion rates in Chicagoland.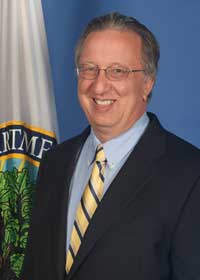 It's the summer of 1965 and the Vietnam War is raging. The Civil Rights Movement has captured the country and the attention of Johnson's administration, after he assumed the presidency upon Kennedy's assassination. Though gone, it was Kennedy's famous words that still rang in my head, ask not what your country can do for you, ask what can you do for your country.
That June, I found myself on a rickety yellow school bus, long since retired by a St. Louis area school district and resurrected by the ever optimistic Brother Tom O'Brien. We were headed from the Fox River Valley of Wisconsin to the heart of St. Louis to volunteer in a summer day camp. It was my first exposure to any person of color, to the realities of living in a truly impoverished community, to the oppressive heat and humidity of St. Louis — yet those eight weeks would set THE direction for my life.
Brother Tom taught me that the failure for kids to learn rested almost solely on the backs of adults. He was a carpentry teacher gladly serving wards of the court, young men in foster care, and the homeless through his gift of carpentry. He taught me early lessons around hope (the name of his scrawny toy poodle that constantly ran around the shop) and true teaching. It is the responsibility of the educator to keep simplifying the lesson into tinier bites in order for the student to learn, because in each person resides a set of gifts, talents, abilities, along with the desire to grow them into full maturity. The teacher must connect with each student and discover what will unleash their yearning to grow.
It was this BELIEF in each individual's potential that inspired me along the path of serving in low income communities — communities filled with young people who are all too often deemed unable to learn.    This passion led me to jump (now slightly less high!) out of bed every day for the past 45 years with an eagerness to embrace challenges, all of which I viewed as solvable.  
In recent years, I've been intrigued by the challenge of building systems to address disparities in education. The institutionalization of inequity has, in the words of D.L. Hughley, reached a point of "just being in the air." Representative John Lewis, my true Civil Rights hero, has challenged us to shake things up, to "stir up good trouble, necessary trouble" in order to achieve a higher good.
The Partnership for College Completion intends to stir up good trouble — to build off of the groundwork that has been laid in the City of Chicago and throughout the suburbs by building win-win strategies internally and across higher education institutions, school districts, and the nonprofit communities with support from philanthropic, business, and civic entities. The current systems — as bold as they were when first created — are inadequate.  All too many of our young people are being left behind, trapped, in suffocating debt, and feeling disillusioned about what the future holds.
Yet, I have no doubt that with bold leadership, the progress made to date in building pathways of success in postsecondary education for first generation low income students has been just the beginning. My travels across the country over the past seven years confirmed that the Chicagoland's college access, persistence, and completion work is held with the highest respect, seen as leading the way in the use of data, program strategy, and multi-sector support while improving postsecondary completion rates. The Chicagoland community is well on its way and poised to take to the next level postsecondary completion. As Robert Kennedy once captured when he paraphrased "Some men ask why. I ask myself why not?" The Partnership for College Completion is asking Chicagoland: 'Why not?'
— Greg Darnieder, Founding Board Chair, The Partnership for College Completion
Related Post: Annoucing the Partnership for College Completion