Wednesday, February 26, 2014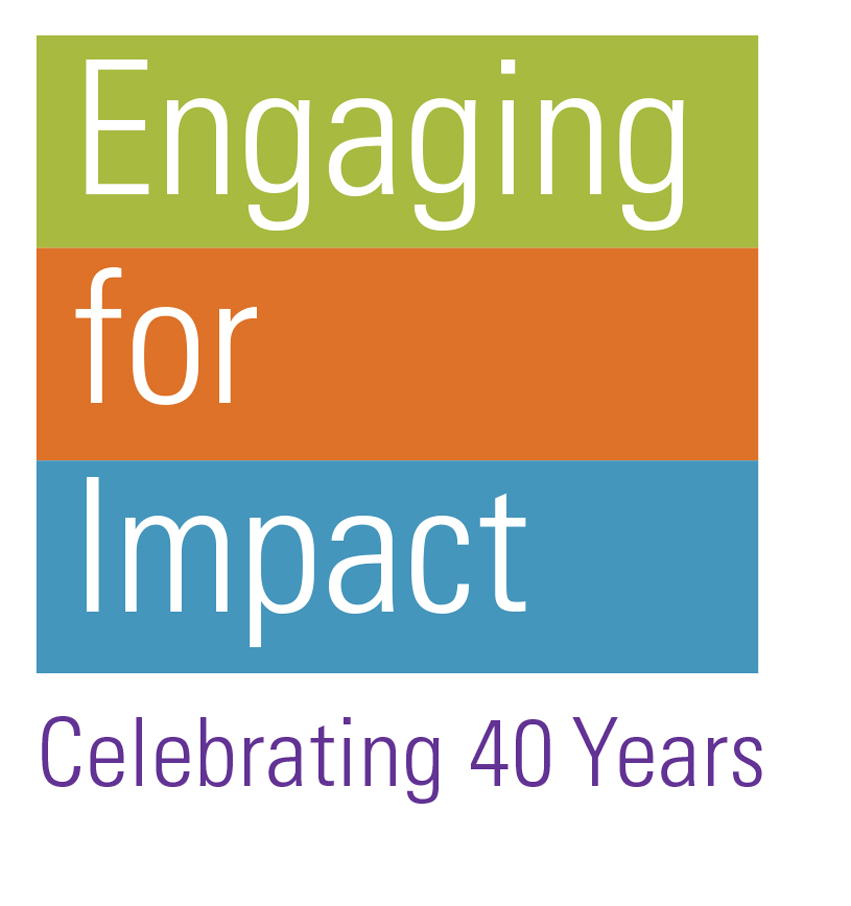 Donors Forum kicked off its 40th Anniversary Year on a frigid January 28, when more than 300 Members, Partners, and Associate Members gathered at the Museum of Broadcast Communications for a program and reception. The generous sponsors who made this event possible are listed below.
Opening the program was Donald A. Cooke, Senior Vice President for Philanthropy at the Robert R. McCormick Foundation and Chair, Donors Forum Board of Directors. He welcomed the crowd and underscored the significance of the event: the beginning of a year-long recognition of Donors Forum's 40 years of strengthening philanthropy and the nonprofit community in Illinois.
Mr. Cooke also spoke about the retirement in June of Valerie S. Lies, Donors Forum's President and CEO of 27 years, and the leadership transition that will occur (the new President and CEO will be introduced at the 40th Anniversary Luncheon on June 20). Mr. Cooke said that while Valerie is retiring, a new initiative will carry on an important part of her work. The Valerie S. Lies Engage Illinois Tribute will fund activities related to cross-sector problem solving, an important part of Donors Forum's work in carrying out the Engaging for Impact strategic plan (click here to see the names of individuals and organizations that have already become part of the initative).
Following Mr. Cooke's comments, Ernest Vasseur, Executive Director of the Healthcare Foundation of Northern Lake County and Co-chair of the 40th Anniversary Planning Committee, introduced keynote speaker Sterling Speirn, recent past President of the W.K. Kellogg Foundation and nationally recognized expert on nonprofit and philanthropy issues.
Mr. Speirn's theme -- creating collaborative advantages instead of competitive advantages -- related directly to Engaging for Impact, Donors Forum's strategic plan. A panel discussion followed, moderated by Mae Hong, Chicago Director of Rockefeller Philanthropy Advisors. Panelists included Sharon Bush, Director of Elgin Programs and Senior Program Officer at Grand Victoria Foundation; Alejandra Ibañez, Program Officer at Oak Park River Forest Community Foundation; and Mark Ishaug, CEO of Thresholds.  Read more on the keynote presentation and the panel discussion here. Ms. Hong then moderated a lively audience Q&A session, with Mr. Speirn and all panelists joining in.
Closing the program was Merri Ex, President and CEO of Family Focus, and Co-chair of the 40th Anniversary Planning Committee. She summed up both Donors Forum's legacy and the nature of its new work by referring to Donors Forum as "the connector," an increasingly important role in our work to bring together sectors. "We are all here today because of Donors Forum, the connector in Chicago," she concluded.
At the reception that followed, Members and Partners mixed and mingled, and were invited to explore the Museum's exhibits. Attendees also had the opportunity to write their Donors Forum memories on a timeline, and to have their recollections videotaped in the Museum's re-creation of a working newsroom.
Plan now to attend the next anniversary event, the 40th Anniversary Luncheon on Fri., June 20 in downtown Chicago. The luncheon will be open to all, regardless of membership in Donors Forum. Details will be announced in the spring. 

Visit our You Tube channel to hear Sterling Speirn's keynote and the panel discussion.
View photos of the program and reception on Facebook.

View photos of the program and reception on Flickr.
Read Valerie S. Lies' most recent Huffington Post column, in which she provides insight into Sterling Speirn's keynote.
~ Marilou Jones, Director of Strategic Marketing, Donors Forum
40th Anniversary Sponsors
Impact
Premier
Platinum Plus
Platinum

Gold
John D. and Catherine T. MacArthur Foundation
Silver
Allstate Insurance Company
Hillshire Brands Foundation
Microsoft
The Albert Pick Jr. Fund
Pierce Family Foundation
Quarles & Brady LLC
United Airlines
Bronze
Chicago Tribune Foundation
D & R Fund
Gaylord and Dorothy Donnelley Foundation
The Richard H. Driehaus Foundation
Lloyd A. Fry Foundation
Jewish Federation of Metropolitan Chicago
Motorola Solutions
New Prospect Foundation
Peoples Gas
The Seabury Foundation
Woods Fund of Chicago