Editor's note: As part of Forefront's #ILGive initiative, we're highlighting successful campaigns run by several participating nonprofits. Whether it was an innovative social media campaign, an engaged board, or great day-of strategy, these nonprofits set, met, or exceeded their #ILGive for Giving Tuesday goals and are sharing words of wisdom on #ILGive strategies.
We recently spoke with Sherry Ladislas, Director of Development of Trinity Services, Inc., to discuss their approach to #ILGive planning and execution and how it led to a successful #ILGive campaign on Giving Tuesday. 
How did you and your team decide to capitalize on #GivingTuesday?
It was great to be a part of #ILGive, which we weren't last year because we had already committed to another platform that we used the first year we participated. Joining #ILGive offered another avenue for Trinity Services to be seen by people who might not otherwise have come across our organization. I was thrilled to hear advertisements about #ILGive and Giving Tuesday on WBEZ. It also enabled us to keep the credit card processing fees down considerably because of GiveGab's commitment to keep the fees at a maximum of $20 on Giving Tuesday. By the way, we were very pleased with GiveGab's platform.
How far in advance did you begin these talks? 
We actually start planning for Giving Tuesday in August to make sure we are ready because we have two major fundraisers just before Giving Tuesday, which demand all of our time and attention. In fact, one of these events is just a couple days after this day of giving, so we are really in the thick of things at this point in time. This was our third year participating in it, so we had already established a timeline for our activities that we've tweaked over the years. We created our content for our posts weeks in advance so that when the time came to schedule them, we wouldn't be cramming at the last minute.
How did you decide what areas to fundraise for?
Trinity offers a wide variety of programs and services, so funding is prioritized based on need. In some instances, some programs have had their state funding cut, or are at risk due to the lack of a state budget, so we prioritize based on those circumstances as well.
How do you keep momentum going?
We have multiple publications such as our quarterly newsletter, family newsletter, and employee newsletter in which we include an ad about Giving Tuesday. We also create an ad which goes in the program book for our fundraising events and on the many TV monitors we have throughout our building for everyone to see. We remind our board of directors at their October board meeting with a copy of the ad. The week before the big day, I send them an email reminder. I do the same for the families of the people we serve, and our staff. I also send the same groups of people an email reminder in the morning and evening on Giving Tuesday.
We also include a card in our annual appeal explaining the parameters of the matching grant for donors to be able to double their gift if they donate on Giving Tuesday.
For a while, we were in the number two spot on the leaderboard, so we sent a screenshot of that out via email as well to keep everyone excited.
How many triggers do you suggest throughout the day?
We did our first press release four weeks out. Then, we scheduled a daily countdown of one post per day on all of our social media accounts two weeks out. Each post featured a different story about Trinity Services' impact on lives of the people we support and the programs and services we offer. On Giving Tuesday, we scheduled posts to appear every two hours. 
Which trigger event was the most successful?
Unfortunately, we are unable to see any correlation between the trigger events and the donations. Our successful day appears to be a combination of everything we did. What we did notice is that we received the most donations during the 11:00 a.m. hour and the 2:00 p.m. hour. 
What advice do you have as far as timing for content?
We talked about the whether or not we needed to make any changes to our timing for content, but decided that we were pretty happy with it. We're going to adhere to the same timeline in 2017. I would recommend that other organizations take a look at their own timing and if they would like to try something different, experiment with what we've used to see if it works for them.
How did you set your fundraising goal?
We are blessed to have a foundation match donations made on Giving Tuesday. The match has a maximum amount so we aim for that ceiling when we set our goal. We actually exceeded it. In fact, since it was still somewhat early in the day and many people weren't yet home from work to check their personal email and see our reminder, we raised it slightly two more times. I know there are two schools of thought on doing this, but for us, it worked.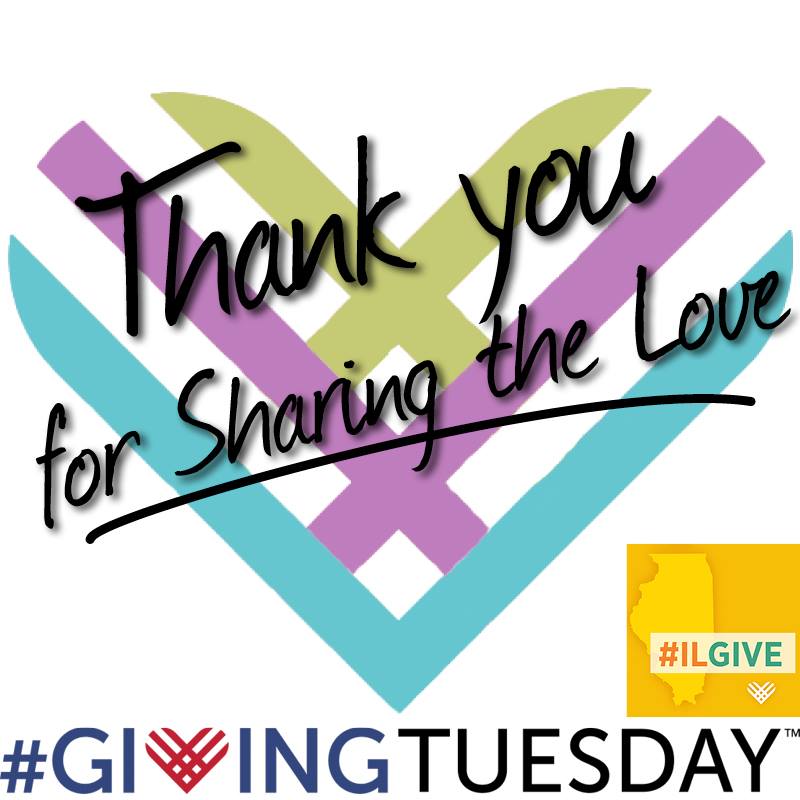 What are your goals for #ILGive 2017? 
One of our goals is to make a concerted effort to stay engaged with the new donors we received through Giving Tuesday. We want to build those relationships and expand them to each donor's set of concentric circles of family, friends, and connections.  We are also in the process of capturing video testimonials and short clips of people's stories now to share on social media in the 2-4 weeks prior to Giving Tuesday and throughout the day on the big day. We will also be posting a few of them on our profile page of #ILGive.
What would you say are key components to a successful day?
Key to ensuring a successful day is sharing your organization's stories on social media and in print ahead of time. It's also important to remind your donors of Giving Tuesday in every one of your organization's publications or fundraising events (if the timing of the event is right).
----------------
Be on the lookout for more #ILGive stories, tips, tricks, and strategies from 2016's participants- they'll come in handy for our next Giving Day this spring! We're also offering educational opportunities in digital fundraising, best practices, and trends to help you prepare for this and future giving days! Watch our newsletters, social media channels, and events page for more info. To learn more about ILGive, visit our ILGive.com or contact Kathleen Murphy, Director of Communications at kmurphy@myforefront.org.