Illinois foundation giving reached a record $3.3 billion in 2014, according to the latest Giving in Illinois report issued today by Forefront, in partnership with The Foundation Center. Giving in Illinois 2016 reveals the scope and giving priorities of the Illinois foundation community.
This analysis is based on the Foundation Center's 2014 grants set, which includes all of the grants of $10,000 or more reported by 1,000 of the largest U.S. independent, corporate, community, and grantmaking operating foundations by total giving. The sample included 55 Illinois foundations with giving totaling $895.6 million. 
Giving in Illinois by the numbers:
5,219 Foundations
Illinois is home to 5,219 grantmaking foundations spanning all types—independent or family, corporate, community, and operating—sizes, and issue areas.
$38.3 Billion in Assets
Illinois foundations experienced strong growth in assets in 2014, with an increase of 7 percent. Assets of Illinois foundations reached a record $38.3 billion in the latest year. Assets of Illinois foundations have grown slightly faster than the national average over the past decade (73 percent versus 65 percent).
$3.3 Billion in Giving
Illinois foundation giving reached a record $3.3 billion in 2014, more than doubling since 2004. (Adjusted for inflation, giving rose 97 percent.) By comparison, giving by U.S. foundations overall rose 83 percent during this period (or 46 percent after inflation). The Illinois foundation community has shown annual growth in giving every year during the past decade.
Education, health, and human services
          are the top funding priorities in Illinois.
22%
Share of total grant dollars supported general operating costs.
$312 million
          Giving by non-Illinois foundations to Illinois recipients.
56%
          Share of Illinois Foundation giving accounted for by Cook County grantmakers.
Illinois State Spending Dwarfs Foundation Giving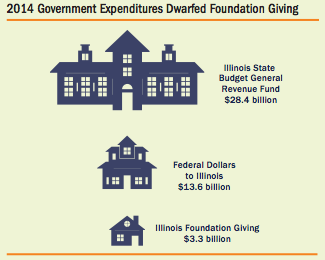 Because the primary role of most private and community foundations is to provide funding, the public often overestimates their charitable resources. In fact, the vast majority of private giving each year (approximately 70 percent) comes from individuals. Foundations are also sometimes seen as having the resources to fill government budget gaps, especially in difficult economic times. Yet compared to government expenditures, foundation giving represents a small fraction of the total. For example, while Illinois foundations provided giving totaling $3.3 billion in 2014, the Illinois state budget General Revenue Fund for fiscal year 2014 totaled nearly $30 billion and the budget deficit for the state in 2013 was estimated at nearly $49 billion.
The Outlook for Foundation Giving
Overall giving by the nation's private and community foundations reached $63.9 billion in 2015, surpassing previous record levels even after adjusting for inflation.
For independent and family foundations giving was up an estimated 6 percent.
Community foundations increased their giving by an estimated 7 percent.
Estimated corporate foundation giving was up 5 percent, following a fall in giving the prior year.
Looking ahead, the report projects that U.S. foundations overall will continue to benefit from healthy growth in the economy and stock market. As a result, their giving will continue to increase well ahead of inflation.
Download a copy of Giving in Illinois 2016.
Download a customizable Power Point presentation to share with your board, staff, and colleagues.
— Kathleen Murphy, Director of Communications, Forefront