Although lagging behind foundations in other states with regard to asset growth, Illinois foundation giving outpaced U.S. foundations overall, says the latest Giving in Illinois report issued today by Donors Forum, in partnership with The Foundation Center.
The report is based on data from 2012 on grants of $10,000 or more that were awarded by foundations in a national sample to recipient organizations in Illinois. The sample included 404 large U.S. foundations, including 48 Illinois foundations. Giving in Illinois reveals the varying ways in which Illinois donors support nonprofits in the arts, health, human services, and several other nonprofit sectors.
Key takeaways from the report include:
The giving of 4,833 Illinois foundations reached a record $2.8 billion in 2012, doubling since 2002 (adjusted for inflation, giving rose 56 percent). By comparison, giving by U.S. foundations overall rose 72 percent during this period (or 35 percent after inflation).
The $32.3 billion in assets reported by Illinois foundations have grown more slowly than the national average, although this largely reflects the concentration of new foundations in areas of rapid economic growth, such as the West Coast.
Similar to national trends, the largest share of foundation funding in Illinois provided support for specific programs and projects. Illinois funders' support of general operating expenses accounted for the second largest share of funding in Illinois -- 21 percent, consistent with the 22.9 percent reported nationally.
Independent and family foundations account for the majority -- almost nine out of ten -- of Illinois foundations and resources, including the state's largest foundation by assets -- the John D. and Catherine T. MacArthur Foundation.
Illinois corporate foundations account for one in ten grant dollars, giving more than $320 million in 2012. Abbott Park-based Abbott Fund tops that list.
The Chicago Community Trust leads among community foundations in the state, accounting for 82 percent of all community foundation assets in the state and 88 percent of community foundation giving.
Foundations in Cook County and surrounding areas control the majority of resources, representing 60 percent of total giving by Illinois foundations. Similarly, nonprofits in Cook County benefited from the single largest share of Illinois foundation funding, 78.9 percent of grant dollars.
Education and human services are the top funding priorities in Illinois, with foundations providing just over half of the 2012 giving in Illinois for education (26.3 percent) and human services (24.2 percent).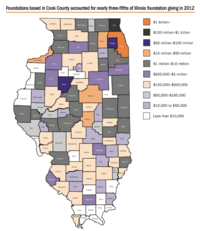 Giving by U.S. foundations rose close to 6 percent in 2013 according to Foundation Center, or 4 percent after inflation. While comparable estimates are not available at the state level, the median increase in giving reported by the 39 leading Illinois foundations that 
responded to the Foundation center's annual "Foundation Giving Forecast Survey" was a more modest roughly 3 percent after inflation. 
Looking ahead, the Foundation Center projects that independent and family foundations will raise their giving by approximately 7 percent in 2014. Corporate and community foundations are forecasting flatter growth. But in a climate of continued economic recovery, overall foundation giving will undoubtedly climb ahead of inflation.
Download a copy of the report here. 
Download a customizable Power Point presentation to share with your board, staff, and colleagues, here.
-- Kathleen Murphy