Forefront + Chicago Cares are partnering with Verified Volunteers, a respected online background check platform, to bring Members this new service.
We are pleased to announce a terrific new benefit for Forefront Members and Chicago Cares Community Partners — one that will increase your organization's capacity, reduce your costs, and make volunteering more accessible to all Illinoisans.
Background checks of volunteers are an important safety measure for nonprofits, but they can be a logistical and financial challenge. Screening quality varies. It can take weeks to get the results back. Volunteers who have to go through multiple checks for different organizations often get frustrated.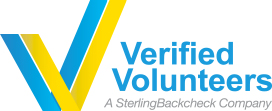 That's why Forefront and Chicago Cares have partnered with Verified Volunteers to simplify and lower the cost of volunteer background checks for our Members and Partners. Verified Volunteers is an online background check platform that uses proprietary technologies and unique criminal locators to deliver high-quality and accurate background checks. Verified Volunteers is backed by the nation's largest background screening company, SterlingBackcheck.
> There is no cost to join the platform, and we have arranged a per-check price discount for our Members. Agencies that use the service can decide whether to assume the cost of the screening, or pass it along to volunteers.
> Screening is quick and efficient, and volunteers initiate their screening themselves, online. Volunteers who have been checked by one organization can easily transfer their secure, current results to another organization.
> Verified Volunteers updates your volunteer background checks, free of charge, each month for a full year (i.e., you will be notified if there is any new reported criminal activity).
Learn more about this great opportunity in this recorded webinar. 
We are working closely with Bryan Noller of Verified Volunteers, to introduce the company's capabilities to our Members and Partners. If you would like Bryan to contact you, please fill out and submit this form. You can also read more at www.verifiedvolunteers.com.
We hope you share our excitement about this new service, which has the potential to save our Members and Partners -- and their volunteers -- considerable time and money.
NOTE: If you are an Illinois operating nonprofit or funder and are not yet a Member of Forefront, click here to find out about joining. After joining, you will be able to take advantage of this and many other Member benefits.