Wednesday, February 5, 2014
Donors Forum has released  Engaging for Greater Impact: A Review of Collective Action Initiatives in Illinois the first inventory of its kind in Illinois focused on identifying collective action initiatives around the state. As Donors Forum launches Engaging for Impact, its new strategic plan, we aim to move toward supporting and accelerating collective action work involving nonprofits, funders, government and others to create sustainable change for the communities of Illinois and the Illinois philanthropic and nonprofit sectors.
Cross-sector work has proliferated in recent years because many problems are just too big and complex for any single organization, agency of government, business enterprise, institution or leader to solve. Groups of funders have been collaborating in various capacities to address problems for decades -- seeking ways to share information, to leverage and maximize resources and to devise systemic solutions. While the potential benefits of joining forces are easy to understand, the reality of execution is far from simple. When, why, and how to collaborate, especially across sectors, are daunting questions.
Understanding the current initiatives taking place around the state is a starting point to answering these questions. We hope to identify from this report the various ways Donors Forum can be a resource to public and private funders, nonprofits, and advisors as they seek to be engaged in meaningful collective action work.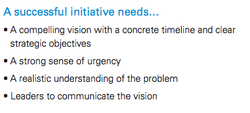 The Engaging for Greater Impact report identifies current (and recent past) results-focused, cross-sector, problem-solving work in metropolitan Chicago and throughout Illinois as well as select and illustrative models from other cities. In addition to cataloguing over 30 collective action efforts, the report identifies foundational traits of cross-sector partnerships and factors that influence their success, and also draws out common themes, lessons and success factors from the initiatives. We hope this report is helpful as you seek to learn from others engaged in initiatives with diverse stakeholders on solving problems (what we call "collective action" work) as well as perhaps connect with some of these ongoing initiatives. 
We are well aware this is not an exhaustive list, nor will it likely ever be complete. We do hope to add to this scan as we become aware of others in order to keep it updated and available as time goes on.  We feel this is a good starting place for our internal discussion of how Donors Forum can be supportive of these collective impact efforts to deliver outcomes to improve the lives of communities and people across the state.  And we hope you'll find it useful as well. 
~ Valerie S. Lies, President + CEO, Donors Forum