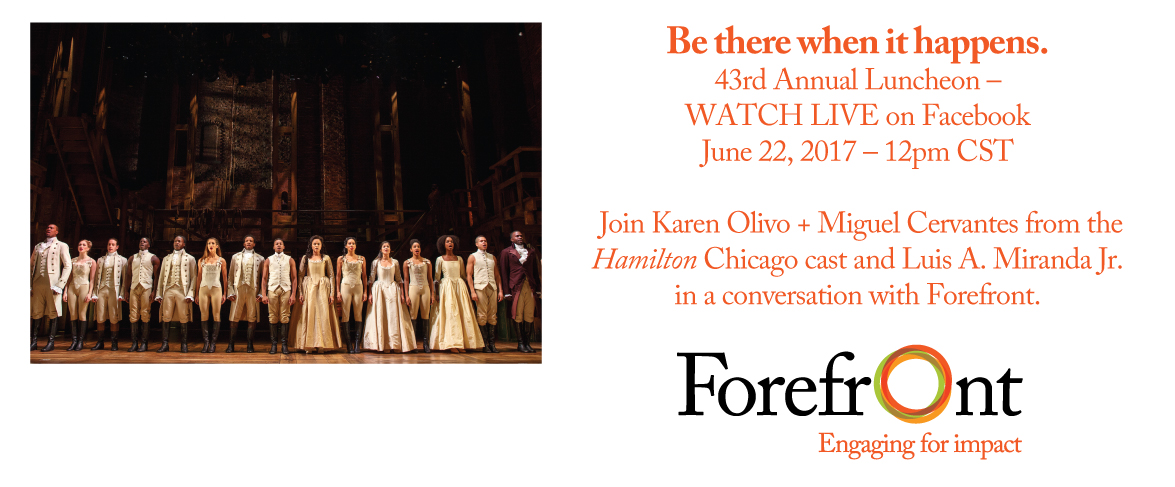 On Thursday, June 22nd, 2017, Forefront will welcome 900+ social sector leaders, advocates, and partners to its 43rd Annual Luncheon! Taking place at the Hilton Chicago, the Luncheon will feature keynote speaker Luis A. Miranda Jr., and Hamilton Chicago cast members Miguel Cervantes (Alexander Hamilton) and Karen Olivo (Angelica Schuyler). 
In order to include as many voices as possible in our conversation, we'll be live-streaming the event on Facebook! Visit the Forefront Facebook page or watch below starting at 12:25 pm.
Mr. Miranda, father of Hamilton creator, Lin-Manuel Miranda, is a champion of the Hamilton Education Program and a long-time political activist. He will address Luncheon guests before being joined on stage by Mr. Cervantes and Ms. Olivo. In a panel discussion led by Angelique Power (co-chair of the Luncheon and President of the Field Foundation of Illinois), the group will discuss this groundbreaking theatrical production, as well as share personal stories on how being a part of Hamilton extends their commitment to a world that celebrates equity. A Q+A with questions crowd-sourced from Hamilton fans and fellow social impact sector leaders will follow.  
Attendees will also have the rare opportunity to see performances by student participants in the Hamilton Education Program! The Hamilton Education Program provides 20,000 Chicago high school students the opportunity to experience the musical Hamilton. Students spend several weeks in their classrooms studying American history through a special integrated curriculum about Alexander Hamilton and the nation's Founding Fathers. Students get to see the show and participate in a Q+A with cast members, and some are chosen to perform an original work they created on stage. At Forefront's Annual Luncheon, three students from Chicago Public Schools will perform original pieces crafted through the integration of history and the performing arts. 
We are so excited to 'get in the room with you,' and create a space to delve into how we, as a sector, must address diversity, equity, and social justice in our work.
Tune into our live stream either above or at Forefront's Facebook page at 12:25pm CT. We will also be live-tweeting (@MyForefront) and posting on the Forefront Instagram account (@myforefront) throughout the event; follow along at #MyForefront. 
Forefront is grateful to Luncheon Co-Chairs: Greg Cameron, Executive Director of The Joffrey Ballet, and Angelique Power, President of the Field Foundation of Illinois, as well as our to our generous sponsors.