2 Years of Leading, 50 Years of Legacy
January 25, 2023
As 2023 is off and running, I can't help but marvel at the fact that Forefront will turn 50 next year! I am humbled, excited, and proud to be part of Forefront's legacy, leadership, and evolved impact – all, on behalf of Illinois' social impact sector.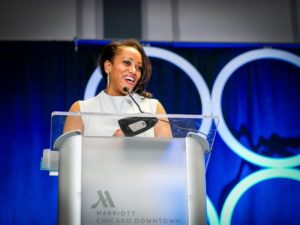 I began my leadership journey with Forefront on January 4th, 2021. And, over the past two years there has been one question that has inspired, challenged, and informed me the most. And, that question has been, "Monique, might you or Forefront know anyone who may help support [insert initiative of your choice]?" This powerful and consistent question has helped me, our Board, and team crystalize Forefront's role in Illinois.
Forefront educates, unifies, and mobilizes the state's social impact sector – and, we've been a part of the Illinois' social impact ecosystem for close to 50 years. We are not in the business of brokering relationships or funding opportunities. Rather, we, along with our nonprofit, government, and philanthropic partners collectively address the state's most complex issues through peer-to-peer convening, thought-leadership, and powering strategies that build more equitable, networks, partnerships, policies, and communities.
 I have also been actively thinking about the present (and future) of Forefront, and the health of our sector. Serendipitously, I recently heard a conversation with screenwriter & producer, Mara Brock Akil who is widely known for the creation of Girlfriends & The Game. When Mara was asked about the desire to reprise any of her former shows or characters, she responded,
Mara's quote and perspective greatly resonated with my soul. So simple, though not easy! As Forefront's President & CEO, I've questioned if I could go back, right a wrong, and make an alternate decision. I am sure we all have that questioning voice running through our heads.  I am grateful to my Board of Directors, Management Team, and broader staff for being trusted partners and sounding boards to reaffirm that our collective journey is brightly ahead and in service to our stakeholders!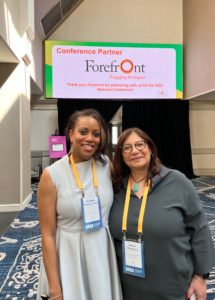 As I revisit and remember the last two years, I'm proud of what our team has accomplished, in partnership with Board of Directors, members, donors, and staff. In my 100 Day video, I described the next six to nine months would encompass the development of a strategic plan, a recommitment of our mission to serve both the nonprofit and grant making sector and the building of a sound methodology for serving our members throughout the entire state of Illinois.
It's my hope that you're keeping up to date via our weekly newsletters and social media channels. If you have, you have noticed many exciting accomplishments! Here are the highlights I am most proud of all rooted in partnership, strategy, and innovation:
We completed our first strategic planning process since 2013
Our team, in lockstep with our partners, launched the Racial Equity Collective
Evolved our Public Policy platform to address the current needs of the sector and align with our new strategic plan
Increased investment in our Fiscal Sponsorship offerings
Refortified our commitment to engage with and serve Central, Western and Downstate Illinois.
Reimagined Forefront's library and knowledge services offerings in our new Impact House space
Underscored the importance and reach of our Mission Sustainability Initiative
These highlights reflect the simplicity of our mission, the dynamic nature of our team, and the diverse needs of the state!  Though Forefront is not a direct-service organization, we work to create a united and thriving social impact sector that has a transformative impact on the wellbeing and economic security of communities, while promoting equity across Illinois.
This is Forefront's north star and I remain committed to leading this organization with integrity, honesty, optimism, fidelity, and always with humor. The road ahead of us isn't as cemented as the past. It's my intention to lead the change we want to see. I hope you'll remain committed with us on this journey – onward!