At the Forefront of Leadership Development
September 28, 2016
Update: We're offering this unique leadership series again January -May 2018. Learn more and register here.
We believe leadership is an activity, not a position. We believe anyone can lead, anytime, anywhere. And we believe that more people exercising leadership is not just possible, it's necessary.
We didn't come to these beliefs on our own. You may already share them. And you may be familiar with the foundation of those beliefs: the concept of adaptive leadership developed by Ronald Heifetz and Marty Linsky at the Harvard Kennedy School. The good folks at the Kansas Leadership Center have refined those ideas even further, and we're bringing them to you in a series of practical and engaging trainings starting this October.
The curriculum for the series is rooted in the Kansas Leadership Center's definition of leadership: mobilizing others to do difficult work.
The kind of difficult work we do in this sector – addressing poverty, protecting the environment, providing health care, and much more – is what we call adaptive work. KLC distinguishes adaptive work from technical work as follows: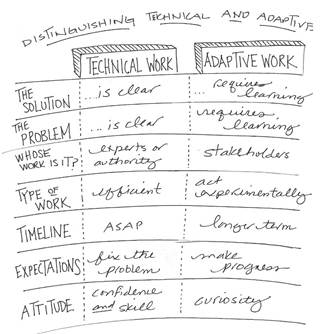 Your Leadership Edge. (n.d.). Retrieved July 20, 2016, from https://www.yourleadershipedge.com/
Let's say you want to speak to a group of people, but they can't hear you because your voice doesn't carry that well. So you borrow a microphone or a megaphone. Immediately your voice is much clearer, and you can be heard. This is a technical challenge – the solution is clear, and the path is direct.
Now let's say you want to speak to the same group of people, but in this case they don't want to listen to you. It doesn't matter how loud you are, so a microphone won't solve your problem. Instead, you may need to get curious and spend time listening to this group. It may take some time before you understand them well enough to get them interested in your perspective. You may even learn something during your discussions that changes what you want to say. This is an adaptive challenge – the solution is not clear, and the path is longer and less direct.
Adaptive work is complicated. It's messy. It takes more than one person to get it done. And if we want to make progress on the big, adaptive challenges our sector wrestles with every day, adaptive leadership is required.
That's why we're inviting you to learn with us. We believe that the principles and competencies KLC has developed through conversations with hundreds of Kansans can help more people make more progress on the challenges we face here in Illinois.
Join us here on the blog for more explorations of adaptive leadership. We hope you'll also roll up your sleeves and join our Lead. Right Now. workshops in Chicago and Springfield starting in October.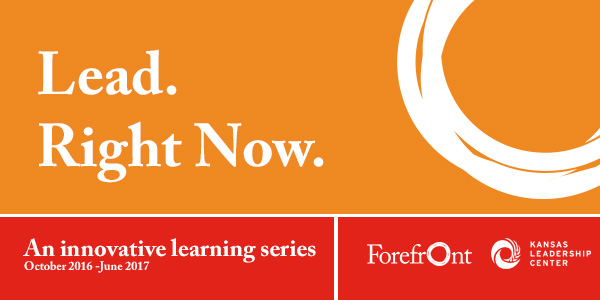 Register for the Springfield Lead. Right Now. Series.
Register for the Chicago Lead. Right Now. Series.
~ Lisa May Simpson, Director of Education, Forefront