#ILGive for Giving Tuesday: Empowering our Communities to Create Change
January 18, 2018
Scaling a movement and empowering nonprofit leaders with knowledge and tools for success
We are thrilled to report that almost 10,000 donors gave a record $2.5 million via ILGive.com on ILGive for Giving Tuesday, representing a 120% increase over last year. An additional $10 million was given to Illinois nonprofits through other major online donation platforms – bringing the grand total to $13 million raised for Illinois nonprofits on #Giving Tuesday 2017.
Foundation partners including The Coleman Foundation, The Dunham Fund, Grand Victoria Foundation, Pierce Family Foundation, and Retirement Research Foundation matched gifts to their respective grantees, providing an additional $826,265.
This was an impressive achievement and further testament to the power and possibility of #ILGive, Forefront's year-long initiative to empower more nonprofits to attract and retain new donors to their missions. #ILGive for Giving Tuesday is the largest campaign within Forefront's #ILGive movement.
A Snapshot of Giving in Illinois on #GivingTuesday 2017
| | |
| --- | --- |
| Dollars Donated on Giving Tuesday in Illinois: | $13,447,232 |
| Raised on ILGive.com: | $2,521,050 |
| Raised on other giving platforms*: | $10,099,917 |
| Matching Gifts from Foundations to ILGive participants: | $826,265 |
| Number of Illinois Nonprofits Using ILGive.com | 467 |
| Number of Donors Giving via ILGive.com | 9,947 |
| Average Gift on ILGive.com: | $135 |
| Most common donation amount: | $100 |
| Giving on ILGive.com via mobile device | 33% |
*The Giving Tuesday Data Project aggregates data from 36 commonly used donation platforms. This number helps us get a picture of the growth in giving on Giving Tuesday here in Illinois.
As more individuals are choosing to support their favorite causes via online giving, #ILGive provides nonprofits with a low-risk, low-cost opportunity to take full advantage of this growing trend. Each #ILGive campaign includes extensive training opportunities for nonprofits through both one-on-one training and interactive group workshops. This year, hundreds of nonprofits from across Illinois received free resources, toolkits, and technical assistance on how to design and implement digital fundraising strategies leading up to #ILGive for Giving Tuesday and beyond.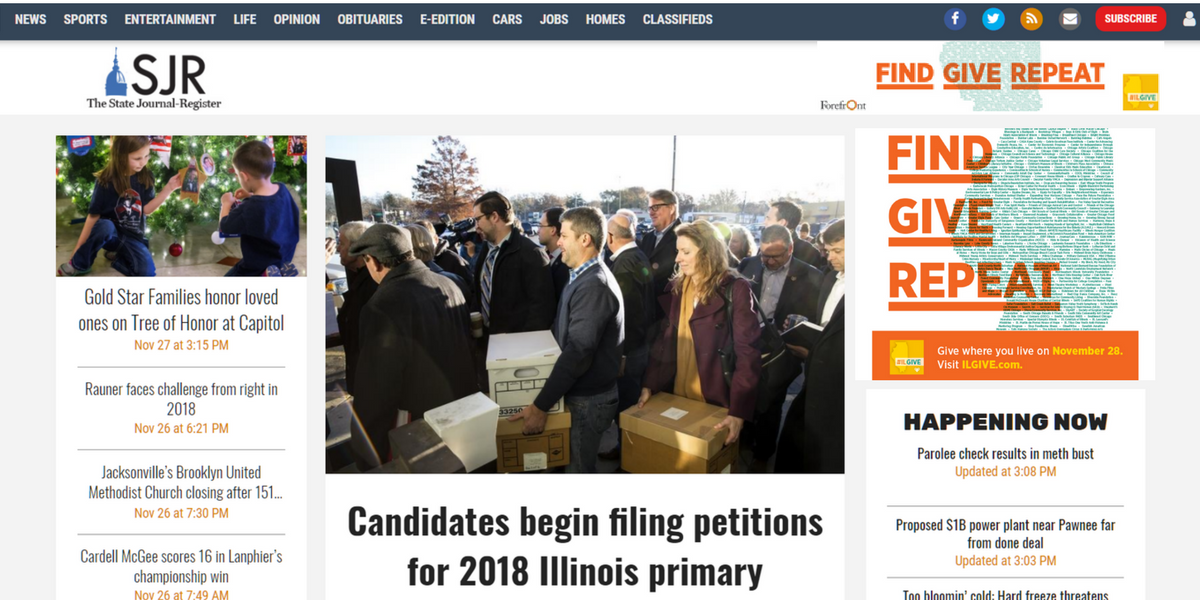 #ILGive also creates a megaphone for nonprofits to amplify their critical work to new audiences and donors through extensive advertising campaigns and earned media
Forefront is also making is easier for people to give through ILGive.com, a centralized location where Illinoisans can find a nonprofit working locally on a cause that matters to them, and then give directly to that nonprofit within a few taps on their mobile device. Our statewide marketing campaign also encourages supporters to "repeat" this giving, building a culture of philanthropy and generosity.
Forefront is grateful for its partners and sponsors of ILGive for Giving Tuesday. "William Blair is proud to support #ILGive and Giving Tuesday. We are committed to investing in the communities where we live and work and ILGive is the perfect opportunity to promote philanthropy and volunteerism."
Throughout the next few weeks and months, we will be sharing the very best ideas from successful #ILGive campaign leaders, as well as trends in online giving, new knowledge about donor behavior, and how to create a diversified fundraising strategy to continue this incredible growth.
As Giving Tuesday founder, Henry Timms puts it, "In times like these, we're so divided, we need to focus on our common values." #ILGive is about coming together as a collective, uniting through generosity, and inspiring a movement of philanthropy.
Save the Date! #ILGive Community is coming up on May 3! Registration will open February 1.