Illinois Among Worst in Nation for Late Payments to Nonprofits
May 15, 2014

Illinois is still among the worst in the country for late payments, as well as contracts not covering the full cost of services for nonprofit contractors, according to new state data released today from the Urban Institute.
"Illinois' ongoing fiscal crisis is going to have an immediate impact on people if the state cannot find solutions. As the state budget session heats up this month, it is imperative that Illinois seek and find budget solutions that preserve critical services to communities," said Doug Schenkelberg, Vice President of Public Policy at Chicago-based Donors Forum, a statewide membership organization that works to strengthen the partnership between government and nonprofits. "We urge state lawmakers to create a budget that is adequate, responsive, fair, and meets the needs of the people of Illinois."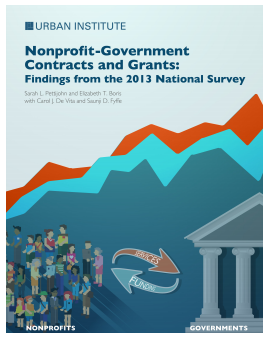 According to the new report, National Study of Nonprofit-Government Contracts & Grants, 2013, nonprofit contractors that have been instrumental in helping communities across the nation weather the recession are reporting that "problems reported with government contracts and grants in 2009 are not confined to human services nonprofits." These problems include government making late payments, as well as government payments that do not cover the full cost of services.
"The data show that nonprofit contractors, any that contract or receive grants from the state, have been under tremendous pressure to fulfill their obligations, but they're doing it with shoestring resources," Schenkelberg said. "They still struggle to get paid, get paid fairly, and get paid on time. This means widespread disaster to people and the organizations that help them if another cuts heavy budget passes in Springfield."
Among the report's findings:
Three in four (75 percent) Illinois nonprofit organizations report late payments from government being a problem.
Just over half (57 percent) of Illinois nonprofits report freezing or cutting salaries and nearly one in five (23% percent) have cut benefits (i.e., retirement, health, or other) to staff, compared to just 12 percent nationally.
Over two thirds (69 percent) of Illinois nonprofits say that government contracts and grants don't cover full costs, earning the state the ranking of third worst in the nation.
Just over half (51 percent) of Illinois nonprofits have seen the greatest decline in resources from state government.
"There is an economic trickle-down effect to what nonprofits are experiencing," added Schenkelberg. "Late payments mean organizations have less capacity to do their work and employees have less personal resources to spend in the community, which means local businesses make less profit, and there is less circulating in the local economy. When costs aren't fully covered, nonprofit contractors either swallow that cost, assuming a structural deficit in the meantime, or they reduce internal capacity – cutting staff, benefits or programs. And all this spreads pressure to other parts of the system. While the need builds, other organizations are experiencing similar constraints and struggle to meet the need."
Schenkelberg urged lawmakers and public officials to strengthen the partnership between government and nonprofits. Key solutions proposed by Donors Forum include:
Create an office to work with the nonprofit sector to addresses policy issues that threaten nonprofit sustainability and health, in order to ensure strategic state priorities are met;
In order to pay full cost of service, dedicate the state to implementing new federal OMB guidance on indirect cost rates for nonprofits, as well as make a good faith effort to allow at least 10% in indirect costs for all state nonprofit contractors and grantees.
Invite nonprofits to the table to be collaborative partners in problem-solving, whether for the red-tape cutting solutions or identifying shared priorities for investment in communities and services;
Create a nonprofit caucus to address issues impacting this 4th largest sector in the state;
Ensure joint streamlining and reform task forces are made permanent with accountability to the executive and/or legislative branch, with nonprofit representation.
Donors Forum's Board of Directors also approved a legislative agenda pledging support for legislative proposals that promote financial stability while making sure the work of nonprofits is sustained on behalf of the people the sector serves.
~ Delia Coleman, Director, Public Policy & Strategic Communications, Donors Forum
Data for National Study of Nonprofit-Government Contracts & Grants, 2013 was derived from a survey of over 56,000 501c3 charitable nonprofits with budgets greater than $100,000 from all 50 states. Hospitals, higher education organizations, and other types of nonprofits not likely to have government contracts and grants were excluded from this sample. Analysis is limited to nonprofits reporting government contracts and or grants.