Monique Brunson Jones Named Forefront's New President and Chief Executive Officer
November 9, 2020
The Board of Directors at Forefront is pleased to announce the appointment of Monique Brunson Jones, LCSW as the new President and Chief Executive Officer. Monique currently serves as the President and Chief Executive Officer at the Evanston Community Foundation (ECF).
"Monique is a visionary leader with an extensive background in mental health, violence prevention, philanthropy, and racial equity. During her tenure at ECF, she was successful in diversifying the board, staff, and community investments to reflect the voices of the community," said Greg DiDomenico, President and CEO of the Community Memorial Foundation, who serves as Forefront's Board Chair. "Most remarkably, amidst the COVID-19 global pandemic, Monique led the team in a total realignment of priorities, raising and distributing close to $4M in grants to address the immediate needs caused by the pandemic."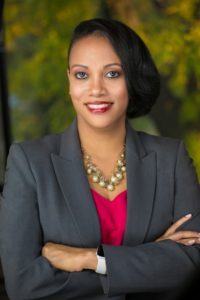 Prior to her work at ECF, Jones served as the Director of Programs for the Chicago Foundation for Women, leading the establishment of the 100% Project for gender equity. Jones also served as the Director of Violence Prevention for the Cook County Department of Public Health and Clinical Director for the Jane Addams Hull House Association. Jones began her career as a therapist supporting families involved in the juvenile justice system in Little Rock, Arkansas.
Dinaz Mansuri, Executive Director of the Mayer and Morris Kaplan Family Foundation and Co-Chair for the Search Committee, stated: "We are thrilled to welcome Monique to Forefront. She's a smart, strategic, and empathetic leader. Her diverse experience across sectors, grounded in racial equity, will be an incredible asset to the organization and the entire state of Illinois."
Jones looks forward to her new position and said: "As our sector faces many challenges, I'm encouraged by the opportunity to build equitable connections for Forefront Members and the communities we serve. I look forward to working with the staff and board to facilitate the collective action needed to build a vibrant social impact sector across Illinois."
Jones, who will start on January 4, 2021, was selected after an extensive national search led by Morten Group LLC, a consulting firm whose work is centered around a commitment to racial equity through assessment, education, and action.
"The Board of Directors is especially thankful to K. Sujata, who is serving as Interim Executive Director, as well as the entire Forefront staff. Sujata's leadership during the transition, in concert with the staff's hard work, greatly contributed to the continued success of the organization," DiDomenico added.
Further inquiries may be addressed to Yusef Garcia, Vice President of Development and Communications, at ygarcia@myforefront.org.
Forefront would also like to thank our CEO Search Committee:
Heather Higgins Alderman, Illinois Children's Healthcare Foundation
DeRondal Bevly, RubyRose Strategies
Greg DiDomenico, Community Memorial Foundation
Josh Gibb, The Galesburg Community Foundation
Mark Ishaug, Thresholds
Anna Lee, The Chicago Community Trust
Dinaz Mansuri, The Mayer and Morris Kaplan Family Foundation
Kate McAdams, Philanthropic leader
Angelique Power, The Field Foundation of Illinois
Wegi Stewart, The Alliance of Illinois Community Foundations