ABFE Releases The Exit Interview: Perceptions on Why Black Professionals Leave Grantmaking Institutions
June 23, 2014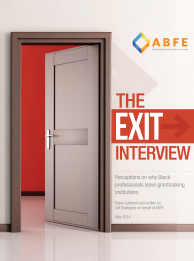 Chicago African Americans in Philanthropy (CAAIP) recently participated in a study about why Black professionals leave grantmaking institutions. Entitled The Exit Interview, the study was conducted by Association of Black Foundation Executive (ABFE), a philanthropic partnership for Black communities. The report aims to build the field's collective knowledge of how to attract and retain diverse talent.
Emerging data suggest that the experiences of many Black professionals in grantmaking institutions may challenge the current thinking on the field's increasing commitment to diversity. Currently, only 3 percent of philanthropic institutions are led by Black chief executives, and the percentage of Black individuals holding trustee positions at philanthropic foundations remains stagnant at 7 percent.
"By changing the face of philanthropy, we overcome an
important hurdle on the way to changing how philanthropy
goes about doing its work." – ABFE, The Exit Interview
In the fall of 2013, ABFE partnered with members of the Black Philanthropic Network to develop the Exit Interview Study, asking approximately 40 present and former Black philanthropic professionals to conduct a traditional "exit interview."
The information gleaned through the Exit Interview Study is disconcerting, but not suggestive of issues that cannot be addressed through strategic intervention. The report offers recommendations on how the sector might begin to address how to get Black philanthropy professionals to stay put, become effective leaders, and grow to truly influence how philanthropic dollars are targeted.
— Kathleen Murphy