Forefront Member Spotlight: Roderick Hawkins from Advance Illinois
June 27, 2019
Happy Pride from Forefront!
Forefront remains a committed ally of Illinois' LGBTQ+ community. We also realize that LGBTQ+ people of color continue to make vital contributions to advance the fight for social, racial, and economic equity – from the foundational work of activists and writers like Angela Davis and James Baldwin, to powerful contemporary voices such as actress Laverne Cox and civil rights activist DeRay McKesson.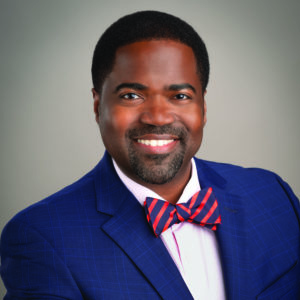 Forefront is proud to help commemorate the 50th anniversary of Stonewall by showcasing emerging leaders within the LGBTQ+ community who are standing on the shoulders of Marsha P. Johnson, Sylvia Rivera, and others while making strides in Illinois' social impact sector. For Pride Month, we highlight Roderick Hawkins, new Director of Communications for Advance Illinois (and Forefront Member), an organization that "works for a strong public education system that prepares students to achieve success in college, career and civic life."
Born and raised in Baton Rouge, Louisiana, Roderick's journey to his adopted hometown of Chicago was more than geographic: it was a path to self-discovery and self-acceptance. Forefront was honored to have the opportunity to visit with Roderick, learn more about his inspiring path to his current role as a mentor and leader, and share his story with our Members.
Roderick exists at the intersection of two marginalized communities: Black and LGBTQ+.
"The challenge, I think, we have as people of color," Roderick noted, "is that when you walk into these spaces, you already know that you are looked at as 'other.'"
And, while the burden of being Black and LGBTQ+ can be crushing, a rich culture that celebrates Black LGBTQ+ has emerged.
Pride emanates from Roderick, and it shows in his drive to advance his career. He moved back to Baton Rouge in 2004 to serve as the Deputy Press Secretary for the first woman governor of Louisiana, Kathleen Blanco. While the role fulfilled and developed him as a professional engaging in political and community outreach, his voice as a gay, black man was missing.
The year Roderick returned to Baton Rouge, 78 percent of Louisiana voters approved an amendment to the state constitution defining marriage as a union between man and woman, prohibiting same-sex marriage.
"That was a reminder: you're back home and chasing this career you want to have, but the price is being denied your full recognition as a member of the LGBTQ community by your boss, your colleagues, your relatives, and your fellow citizens in the state. That was a tough blow."
People of color often pay a price for speaking up against bias in the office and for staying silent. In fields where these professionals are frequently one of the only people of color in the room, the concern that they might "cause trouble" or "be loud" leads to a voice being quieted in the workplace and a loss of power to the communities those voices represent.
Roderick realized that dynamic but used it to sharpen his resolve to show up, be vocal, and push back in environments that alienate communities already living on the margins.
Hawkins moved back to Chicago in 2007 and accepted a role as Director of Communications with Forefront Member the Chicago Urban League. During his tenure, he returned to his active work in the LGBTQ+ community and applied the lessons learned in Louisiana to build a stronger voice and presence.
At the Urban League he "grew as a leader," moving up to Vice President of External Affairs in 2012, and managing the organization's marketing, communications and community engagement efforts.
Roderick also fulfilled his dream and a personal commitment by leading organizations primarily serving the African-American community and working closely with groups such as Lambda Legal, Equality Illinois, and The Chicago History Museum.
He left the Urban League in 2015 to work briefly in politics, then joined Mayor Rahm Emanuel's staff in 2016. Roderick began working for Advance Illinois in June 2019.
We sat down with Roderick in early June for a longer conversation about this life, work, and what being at the forefront means to him. The interview below has been edited for length and clarity.
Please share with other Forefront Members more about Advance Illinois, your role, and how you intend to advance the organization's work and mission.
Advance Illinois is an advocacy and policy organization focused on education equity, education access, and education achievement. I see it as an organization that for more than 10 years has been a leading voice on education policy and education funding and making sure that students are prepared for their futures; making sure that all public schools across the state have the resources they need, and the teachers they need to prepare our students for careers, civic life, and just general well-being.
I've joined as Director of Communications and want to help Advance Illinois increase our visibility, help continue building strong relationships with our audiences. I want to use every tool at our disposal and share Advance Illinois' message to increase partnerships across the state. We have many dynamic partnerships and coalitions across Illinois that have advanced school funding reform, addressing the teacher shortage, and taking on the need to increase the number of Illinois residents who have a post-secondary degree to fill the workforce that is retiring. I want to use our tools and the relationships I've cultivated over almost 20 years to help us bring our message to the community.
We do great work and more people need to know about that work and how we get it done. We have a movement and more people need to be involved. I want to make sure more people join that movement.
Why do you serve in this sector – why is it important to you?
I believe it's a part of who I am as an individual. I am a public servant. I've always been; I believe I always will be. Many people hear the expression public servant and think of an elected person. No, those of us in the nonprofit sector serve communities; we serve the public. We must operate every day with the sense of awareness that what I'm doing is greater than me.
I also realize that I'm never going to meet or see all the people who will benefit from the work that we're doing, but I sleep easy at night knowing I'm part of something that will live beyond me, that will impact people who look like me, and people who don't. That gives me a satisfaction that is hard to put into words, honestly.
As June is already winding down, what does Pride mean to you?
Pride means to me that I take joy in acknowledging those who came before us; those on whose shoulders we stand. To me, Pride means taking a moment to reflect on those we've lost, those who did not have the opportunity to speak out and step forward. I think a lot about my hometown and men I knew who are no longer here, who didn't have a voice, didn't have the opportunity, were closeted until the grave, who left us because they didn't have access to proper healthcare, or who chose not to take their meds and they happened to be [HIV] positive. I think about the journey I've been on and that I'm staying on. I take pride in the people who have mentored me in my life.
Parades are great. Parades are fabulous. Everybody loves a good parade, but I take pride in the journey we've had, where we're at now, and the journey we still must remain prepared for.
What have you been doing to celebrate Pride Month?
I've been watching Pose! Also, one Pride event I co-hosted, which was a powerful intersection of all the things that I am about, was a Lambda Legal community engagement event also hosted by E. Patrick Johnson and Stephen Lewis in their lovely Bronzeville home. The main purpose of this event was to connect African-American LGBTQ+ folk to an organization that has been working on their behalf over 40 years; That they may or may not have known about, may have thought that it was only for elite, cis-gendered, gay white men.
The turnout was tremendous, and we raised a good deal of money. It was a reminder that when we [black and brown LGBTQ+ folk] gather as community to have an authentic conversation in an authentic and welcoming space, great things could happen. I felt so much pride in that room and I'm getting a little emotional as I reflect.
Will I be in the parade? Of course, I'll be in the parade. Taking a moment to reflect on the journey, not just my own, but the journey of our community over these years.
Speaking of journey, where do you see the LGBTQ+ community going?
I think we must be ready for battle. It's helpful to have a common identified foe who happens to be in the White House right now. (And) when you have states that I spoke about – states that were defining marriage as being between a man and a woman back in 2003/2004 – you also have states trying to roll back rights when it comes to reproductive health. That impacts our community as well.
When states are trying to do things that would really turn back the victories that we've won, we must be vigilant. We must be aware, and we must know that we've got ongoing fights ahead of us. I think many people understand now that, while (legalizing same-sex) marriage was wonderful and fantastic, that wasn't the end of the road; not by a long shot. So many people are living in fear across the country. Young children, young people who are choosing to take their own lives because of bullying or teasing or feeling they can't live fully and authentically.
You have elders who are in places where they feel like there's no one around to support them. 'I'm old and I'm alone, and I don't see any other the path but suicide.' Trans women of color are losing their lives on a nearly daily basis. And we haven't even touched on community and police relations. I could go on and on, but we still have work to do and I hope people will take stock, not just Pride Month but every day, that we must continue to be vigilant. We must continue to be aware of rights, not just your own or what happens in your own backyard, in your own neighborhood, or in your own community only with the people who look like you. If you're truly going to be about liberation and equality and equity for LGBTQ+ people, you got to have a stake in all these fights.
We've got work to do to educate and inform and empower ourselves to know that Pride is beyond a flag. Pride is beyond a parade in Boystown. The work continues.
Focusing more on a local approach, how are you bringing authentic activism to Advance Illinois and preparing for this battle?
As I mentioned earlier, just being able to exist freely and openly and speak about my life with my colleagues without any fear of retribution about my gayness. I'm very fortunate that I've arrived at a place where there are some dynamic people who get it. They're open to do more and open to understand more.
To answer the question, if we're looking at this as impacting all children across the state of Illinois when it comes to how schools are funded, about equity, about access, about achievement; if we're talking about all students, there will be opportunities to make sure that education includes all children of Illinois, including those who happen to be LGBTQ+. I think there will be opportunities that will present themselves that I will bring to the table to make sure that we are collaborating with organizations that engage in the community such as The Illinois Safe Schools Alliance. When it comes to our work in Springfield, where we are working with the General Assembly to continue moving forward on funding; to get them to move forward on addressing the teacher shortage.
I also carry history and heritage with me. For example, I know when I walk into spaces that are predominately white adults, my blackness is seen first. I lead with my blackness. The gayness will shine through by either discovery or revelation. It took me a long time to believe that I could bring all of me to the table. I'm there now and what I've learned is, when you bring everything to the table in an authentic way, you can get more things done. The journey may not be as easy. You may have a few more road blocks, but if you bring it all to the table; if you're willing to negotiate, willing to put in the extra work to get your colleagues on board or to demonstrate to your colleagues that we've got similar goals and we are here together, (you can make progress) 'My presence, my blackness, my gayness benefits this organization and benefits you. Hopefully you'll be better for knowing me as I should be better for knowing you based on your individual driving journey.'
When you serve with and for an organization whose stakeholders and constituents may uphold incongruent values (perhaps anti-LGBTQ+), how have you harmonized your work with your own values in order to advance the goals of the organization?  
The only thing that comes to mind right now is a lesson that my mother taught me when I was a child: Always be kind to people. Always be nice to people because you never know when your path is going to cross again. If I lead with kindness and compassion, you're going to eventually – I believe – put aside whatever concerns or fears you may have and get to know me for what I bring to the table. I'm going to lead with that. I'm going to be relentless as well, let's be clear. I'm not going to shrink back.
I also like to find common ground. In this new role (at Advance Illinois), I'm going to make sure we find common ground. I'm coming from Chicago. Big, giant Chicago, where we can, with relative ease, speak about issues of racial equity.  We can speak about issues of black and brown inequality. That may not work well in another part of the state, but what will resonate with them is that our state is better if all our students, regardless of their race, economic status, or ZIP Code is, are given the best opportunities to succeed. Getting this does requires everyone from across the state working in partnership. Even people from the more conservative corners of Illinois.
Once I shape that message, and they believe in the message, they will eventually come around (I believe) and respect the messenger.
With all the insights you've gained – the roses and thorns – how do you serve as an active mentor to others in the LGBTQ+ community?
For me it's easy and I think it's required. Everybody says that this expression is overused now, but I do believe "to whom much is given much is required." I wouldn't be where I am without mentors. I would not be where I am without people in my life who saw things in me that I didn't in myself at the time. Often, the environments I'm in connect me to younger people who happen to be part of the community. I make a point when I meet them, especially a person of color who identifies as LGBTQ+. I extend myself to them and let them know if they need anything, I'm available.
For my over 40 friends in the community: when you meet a younger person who reaches out for mentoring: Invite them to coffee. Invite them to lunch. Give career advice. Share your journey, including the mistakes you made.
Then, take it a step further: For me it's simple, if I'm hosting an event, I make sure young people are there. At the recent Lambda Legal fundraiser I co-hosted, a younger invited guest said to me, 'I don't think I can afford to give a donation at that event. I said, 'That's not why I'm asking you to be there. I'm asking you to be there because the community needs to know that there are younger, up-and-coming voices in the community, and they should connect to you. You may only be able to give $25 today, but the day is going to come when you'll going to be able to give $2,500. You need to be ready for this. You need to be ready to be able to take the platform that I have right now and pay it forward.'
We have an obligation – especially those of us who are people of color and are LGBTQ+ — to reach back as we climb. It frustrates me when I see folks in spaces who have access, who have agency, who don't do that.
I think it's important also for people of color to do it with other people of color, anyone you want to. I'll say this, with respect and admiration, white folks do it all the time. There's inter-generational wealth, there's inter-generational mentoring, there's the 'Oh, you went to that school, so did I. You should meet this person, that person.' As people of color, we need to do more of that for our community.
As a leader in the civic and social impact sector, how do you see organizations like Forefront (and others) advancing our statewide sector?
There are three aspects: I would say it's important to be a voice, a convener, and an advocate. My experience with Forefront, going back almost 20 years now, is knowing that Forefront was a go-to source to convene the community of those who give, those who do good work in the community who need the support of those who give, as well as those who influence their giving.
Forefront is the convener that puts us all in the room together to have conversations to raise consciousness, to raise awareness and maybe to even have conversations that may make some people uncomfortable, but with the intention that we've got work to do. We only can create sustainable impact if we are all working together in a collaborative manner. Forefront does that.
Even in the most recent meeting I saw Forefront host a panel with women who talked about race and gender and inclusion in a very open and honest way – in a room that included people who probably would not have to talk about it in their daily lives. Maybe have never had a conversation like that or have witnessed a conversation where women of color, particularly black women, felt empowered to just say what was on their minds and be direct about it. They don't just talk the talk, they walk the walk, but also, they were people women were going to listen to, because they have influence. I think Forefront is one of the few conveners that could bring people together like that.
For those who were in the room that day, now their job is to be an advocate for what they heard in the room. You witnessed the conversation – what are you going to do in your individual walk and in your individual philanthropy? Now that the convening has happened, the challenge goes out to ask the question: what are we going do now?
You are very public facing, actively engaged with the community, and you have a dynamic and expansive network. Please share something about yourself that many folks may not know.
I am, at my core, a mama's boy. I have a mother who is living with ALS; she was diagnosed in 2013. I am very, very close to her. I run all major decisions by her. I am empowered to do what I do because of her; because she has demonstrated unconditional love to me my entire life. Especially when I came out [as LGBTQ+] to her, her response was, 'Well at this point I figured you'd just show up at the holidays with a partner.'
That's where she was before I could even tell her. She said, 'I told you long time ago there's nothing you can do or say that will change how I feel about you and that my is unconditional love for you.' Everybody doesn't get that or receive that from their family. I think my mother breaks the myth that Southern, black, religious folks don't embrace their LGBTQ+ kids. In many cases that's a lie and she's an example of that. Being where she is now, where she is so vulnerable, where she struggles every day, waking up every day is a gift for her. I don't talk about it enough, but that drives me more than anything – that I have a mother who loves me unconditionally and who has empowered me in ways that you can't even imagine. She expresses so much love even in the midst of a daily fight for her life. That gives me strength. What keeps me strong? What keeps me moving? What keeps me motivated? That I have a mother who loves everything about me. I find strength in that.