Where Good Work Meets Best Practice
Forefront Launches Financial Consulting Practice to Help Nonprofits + Foundations Succeed
Forefront, Illinois' statewide membership association for grantmakers, nonprofits, and other social impact organizations, is working to build a vibrant social impact sector in the state of Illinois. We do this by creating the conditions under which social impact organizations can do their best work; Forefront develops top talent, attracts investment to the sector, improves systems and policies, and increases organizations' capacity.
In an effort to further its mission and continue improving the social impact sector, Forefront recently launched Converge Consulting, a new consulting practice providing affordable accounting and financial services to nonprofits and foundations.
"At a time when nonprofits and grantmaking organizations are keeping a sharper eye on resources than ever, Forefront uniquely understands the challenges they face," notes Forefront's Chief Operating Officer, Andreason Brown. "Part of Forefront's work is to empower social impact organizations to achieve their missions — and increase their capacity. We're delighted to be able to offer these important services to Illinois nonprofits and foundations."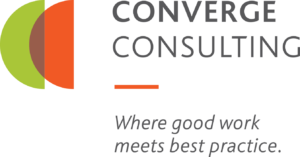 Converge Consulting manages a network of independent consultants with expertise in providing solutions to nonprofits and foundations. The practice will provide such services as bookkeeping, accounting services, financial statement generation, software integration, 990 data gathering, assistance preparing for audits, and more.
Routine financial maintenance

Consultants will work with organizations to improve their existing financial functions – like preparing routine monthly accounting reports and reconciliations. We'll also work with organizations who may not have enough staff to segregate duties – including check-writing and approving transactions.

Cost allocation methodology

Consultants are familiar with the nonprofit accounting and can recommend a methodology to fit your organization's needs.

Improved reporting and software use 

Consultants have extensive experience in assessing and recommending accounting software packages for the particular needs of nonprofits and foundations.

Audit and tax preparation

While Converge Consulting won't perform audits or prepare 990s, we will prepare you for audits and tax preparation – a process that will save you both time and money.
Converge Consulting is the perfect resource to alleviate time and energy from the leadership of these organizations and allow them to focus on advancing their missions. Converge Consulting allows clients to cost effectively acquire a level of expertise and familiarity surrounding financial services for nonprofits and foundations otherwise likely unattainable. Clients enjoy an affordable rate and are not required to sign minimum contracts, only incurring expense when necessary. Services are available to all Illinois nonprofits, regardless of Forefront membership.
Learn more about Converge Consulting at weconverge.org, or by contacting Aaron D. Sims, Director, Converge Consulting, at asim@weconverge.org or 312-578-0090.