Forefront Member Spotlight: Enlace Chicago
August 8, 2019
Forefront has been proud to work with incredible organizations like Enlace Chicago as part of our commitment to promoting Census outreach and education here in Illinois. But political advocacy and empowerment are just a couple of many efforts this mighty nonprofit Member undertakes for the neighborhood of Little Village in Chicago. Last week, we spent an afternoon with Enlace Chicago's Street Outreach team to get a better sense of its work with – and impact on – youth in their community.
Scratchy static and chatter from a police scanner flow through the small speaker of a phone set on the armrest of an SUV rolling through Chicago's Little Village. Able to decode the police talk amid all the noise, the driver pulls out key details of a nearby incident as she narrates a tour through the side streets of the neighborhood. The SUV passes murals and memorials, weaving through Eloteros selling corn on the cob, bustling bike, bus, and car traffic.
"I'm not going to make it there faster than them," says the driver, 47-year-old Little Village native Cecilia Mannion, referring to scanner talk of the incident. She hangs back, as she and outreach supervisor Daniel Michel watch squad cars – sirens wailing, lights flashing – speed down the block. "Sometimes we do."
Cecilia is just shy of five feet; wears her nails long. Everyone in the neighborhood calls her Ceci. She is the only female Street Outreach worker at Enlace Chicago, and in the entire Little Village community. In just three years with Enlace, she's transformed many lives simply through her ability to relate to people in her neighborhood, especially youth and those with gang-related experience.
Little Village, commonly known as La Villita, is 84% Latino, 12% Black, and 39% foreign-born. This melting pot of coexisting ethnicities creates an exceptional culture that merges traditions, values, and skills. Enlace Chicago has been an essential part of Little Village since the early 1990s, when a small group of leaders mobilized to design a community-driven redevelopment of an industrial park on 26th Street and Kostner Avenue. Their reach eventually expanded to challenge systemic inequities and barriers to economic and social access.
Since 2005, Enlace Chicago has utilized Street Outreach, one of the organization's three direct-service programs – Street-Based Counseling and School-Based Counseling are the others – to help address community violence. Outreach staff work directly with youth between the ages of 13 to 24 who are most at-risk of being victims or perpetrators of gun violence. Ceci's goal, aligned with Enlace's mission, is to encourage youth to attend school and provide them with financial opportunities and fulfilling activities. "That keeps them off the street, right?" she says as she drives.
To prevent conflict, Enlace's Street Outreach Team uses targeted mediation strategies as well as case management, mentorship, safe spaces, and connections to necessary services and resources. If violence does occur, the team works collaboratively with partners and across Enlace's departments to support families, visit the hospital, eliminate retaliations, and organize prayer vigils, marches, and fundraisers. Street Outreach, for example, collaborates with School-Based Counselors to prevent violence at school from erupting and escalating in the neighborhood.
​Ray Arroyo, Enlace's Youth Engagement Coordinator and a Little Village resident, works directly with Street Outreach to connect them to resources needed to coordinate activities, outings, and workshops. Every year, he facilitates One Summer Chicago for Enlace, which provided summer jobs to more than 60 youths in the community in 2018.
The Street Outreach Team consists of four people, including Ceci and Daniel, who accompanies her this Thursday evening. A typical day begins with Ceci powering on the police scanner and "hitting the hotspots" — areas flagged for consistent criminal activity.
As Ceci canvases each block, members of the community give her a holler or a head nod, whether they're mowing the lawn or sitting at a stoplight. She knows everyone, and everyone knows and trusts her. Ceci considers herself a peer who gives back to the community by being the person she needed when she was growing up in Little Village.
"She has this really amazing way to connect with young people," says Arroyo. "I think that young people trust and respect her. They don't want to work with anyone else. They want to work with Ceci."
On her rounds this night, she stops briefly at a fire-damaged coach house with a community-driven memorial out front. Ten crosses are adorned with candles, rosary, flowers, and photos in memory of the ten children who died in a house fire last summer while attending a sleepover. By rallying members of the community, Ceci organized a donation drive for victims' families. Her efforts left the second floor of Enlace's office layered in gifts of clothes, household items, and anything able to bring comfort in the families' time of need.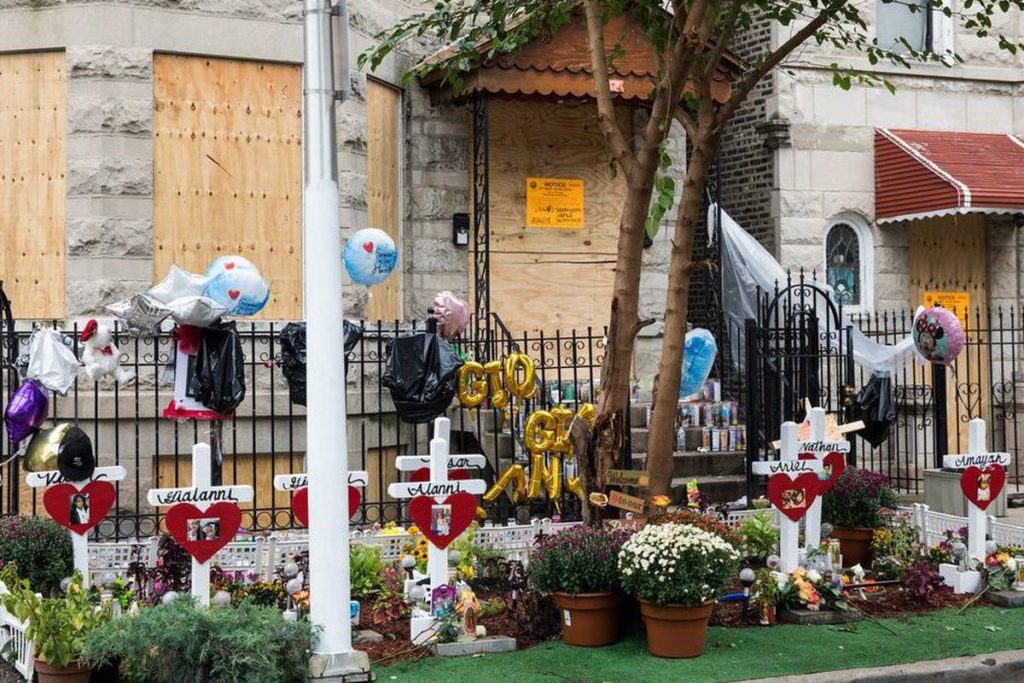 Even though Ceci has nine children, including two foster children, she sees the young people in her community as her own. Her kindred presence in Little Village impacts every individual she meets.
"You can't expect people who aren't familiar with the community to truly understand," Ceci says. Street outreach is an important part of engaging a neighborhood, but it's most effective when outreach workers are active in the community. Often, those in positions of power outside of communities define these problems and solutions on their terms, leaving out those directly affected. To combat that dynamic, Enlace intentionally hired its workforce from long-term or life-long residents of Little Village.
Ceci and the Outreach Team partner with other organizations to coordinate year-round activities that promote peace throughout the community. Every Thursday at La Villita Park, community leaders, Enlace members, and partner organizations gather for fellowship, food, carnival games, and sports. For Community Day on Thursdays, Ceci and Daniel put together two softball teams of Little Village youth and Enlace staff.
"She just grabs youth that want to play and will fight to make sure they're on the roster," says Daniel.
After a long day of patrolling the neighborhood, Ceci pulls into La Villita Park to enjoy the company of her community. People of all ages immediately run to her car, greeting her with hugs and smiles, many even referring to her as "mom." She's a nurturer, a caretaker, the Little Village Matriarch.
Throughout Ceci's time at Enlace Chicago, countless community leaders and members have sung her praises. Countless stories are told of how her commitment and persistence saved lives.
"One thing for certain is that these kids always have a good, quality time," says Arroyo. "A lot of the times the parents are not involved and when they [the youth] spend time with Ceci, they just forget all of that."
This pickup game is a perfect encapsulation of Enlace Chicago's mission: convening and organizing members of their community to increase the vibrancy of La Villita, Chicago, and the region. It's this direct, on-the-ground work of our Members that we here at Forefront seek to emulate as we try to convene, organize, and build capacity for the social impact sector across the state.
And, we are immensely thankful to have as Members – and learn from – such wonderful north stars.